Solar modules are the main components that can help you harness renewable solar energy, power your houses and save lakhs of rupees. Hence, a solar panel should be chosen paying utmost attention by analyzing its capacity thoroughly. 
The DC electricity generated by solar panel can be used for several purposes like powering home appliances, remote power systems for cabins, remote sensing, telecommunication equipment etc. Higher the capacity of a solar panel, the more light absorbed, resulting in great efficieny.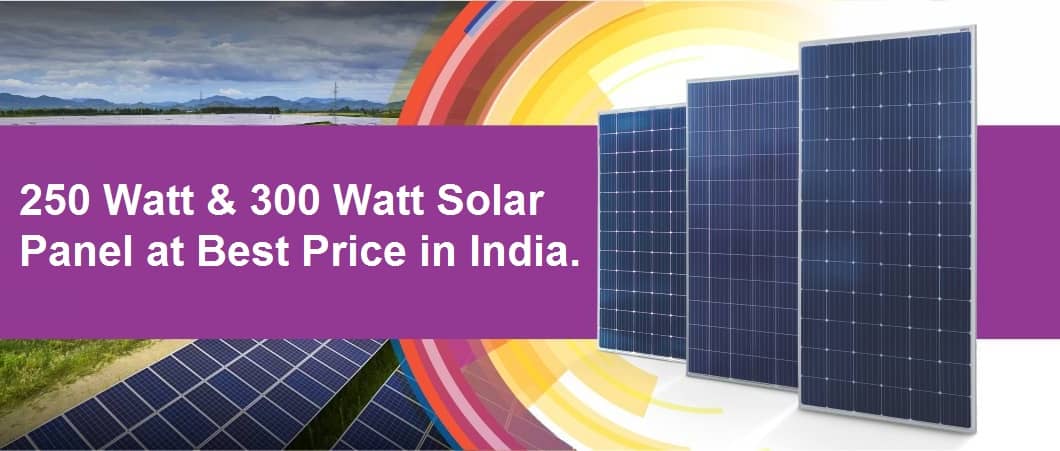 We have mentioned detailed information about 250 watt and 300 watt solar panel below along with their prices and specifications. So read the complete article and choose the best that meets your requirement.
A 250-watt solar panel is a medium-sized module used to generate electricity from sunlight falling on it. This 24V solar panel is highly reliable and efficient to run your home or business appliances. It can help you reduce your electricity bill by a considerable amount. 
This 250 watt solar panel alone can generate around 1 unit per day. So if you are installing 250W solar panels together in a bunch then you will get heavy electricity for free, over the day.
It is a combination of 72 solar cells that is installed covering 10-12 sq ft of space. A 250 watt solar panel is suitable for home solar systems and commercial solar systems. It is a perfect sized solar panel that is neither too high in capacity nor too low. 
250W Solar Panel Specifications
A 250W solar panel is an intelligently designed device that is sleek and attractive. It has great specifications. Here, you can see its specifications in detail and compare them with your requirements.
| | |
| --- | --- |
| Particular | Description |
| Solar Panel | 250 Watt |
| Power max (Pm) | 250 +/- 5% |
| Short circuit current | 8.95 A |
| Max power current | 8.35 A |
| Maximum voltage | 29.95 V |
| Open circuit voltage | 37.25 V |
| Module Efficiency | >19% |
| Type of Solar Panel | Multi crystalline |
| No of cells in series | 72 |
| Frame type | Aluminum |
| Glass type | Tempered 4mm |
| Weight | 21 Kg (Approx.) |
| Y-Axis mounting hole | 819.5 mm |
| X-Axis mounting hole | 946 mm |
| Junction Box Cable | 4 mm |
| Selling Price | Rs. 8,999 (Inclusive of all taxes) |
Note: The specifications and price may be subject to change as per the solar brand and solar panel type.
A 300 watt solar panel is a high voltage solar panel that is specially designed to generate power efficiently and at a lower price rate. The efficiency rate of a 300 watt solar panel is >19%.
This capacity solar panel can produce up to 1.2 units per day alone. In 300 watt solar panel, high performance trackers are used which provide comparatively more power to us.
With time, the designs and efficiency of this panel are improving significantly. On the other hand, the increasing competition among several brands is resulting in decreasing the price of the modules. And hence, the 300W solar panels are getting more popular day by day. 
300W Solar Panel Specification
A 300W solar panel is great for a large size home or other large projects. It may either be any residential/commercial project or an industrial project.
This solar panel is available at the lowest price with great features. The detailed specifications and 300 watt solar panel price is given below.
| | |
| --- | --- |
| Particulars | Description |
| Solar Panel | 300 Watt |
| Open circuit voltage | 44.5 V |
| Max. power voltage | 35.5 V |
| Short circuit current | 8.65 A |
| Max. power current | 8.22 A |
| Module dimension | 1968 x 987 x 40mm |
| Operating temperature | -40 C to +85 c |
| Module efficiency (%) | >19% |
| Max. system voltage | 1000 |
| Series fuse rating | 15 |
| Junction box | IP 65 / IP 67 |
| Output cables | 4mm², min.900mm length |
| Connectors | MC4 Compatible |
| Protection | SCHOTTKY BYPASS DIODES |
| Cell layout | 10 x 6 |
| Frame | Anodized aluminum |
| Weight | 22kg |
| No. of Solar Cells | 72 (156 x 156 mm) |
| Selling Price | Rs. 9,800 (Inclusive of all taxes) |
Note: The specifications and price may be subject to change as per the solar brand and solar panel type.
How many solar panels are needed in a solar system?
Of course, the number of panels you'll need depends on your energy goals. You must know your energy requirements and your current energy consumption. Besides, the amount of sunlight and climate conditions in your area play a major role.
To meet a certain energy need, you can have several combinations of different capacities and amounts of solar panels. For a rough idea, if your house consumes 1000 kWh of energy, you'll need around 28-30 solar panels of 300W to generate the same amount of energy.
The average household in India consumes 250kWh of energy per month. To generate this amount of energy, you'll need 7-9 modules of 300W and 9-12 modules of 250W.
Features of 250 & 300W Solar Panel
The main feature of a solar panel is to reduce the high cost of grid electricity by providing free solar electricity. The solar panels ranging from 250W to 300W are highly effective in reducing your dependency on conventional sources of energy. Besides, there are several other unique features of these modules which are discussed below. 
#1. Highly Efficient
The solar panels ranging between 250W-300W are high in efficiency. They are perfect capacity modules you'll need to run your home appliances with high output performance. 
#2. Low Maintenance
Solar panels are a long term investment that works efficiently for years without demanding high maintenance. Just clean the panels once a year with solar panel cleaning kit to ensure constant efficiency. 
#3. Silent Operation
Unlike other electricity-generating motors and power plants, solar panels do not make unbearable noise while operating. The electricity harnessing process operates silently. 
#4. Less Space Required
This range of solar panels are huge in capacity but that doesn't mean they require a huge roof area to get installed. You can install the modules just anywhere– on the ground, on the roof or wherever sunlight can be absorbed in abundance.
#5. Highly Durable
These panels can work efficiently for a long period which is about a quarter of a century. Solar panels are the most durable components of a solar system.
#3. Benefits of Solar Panel
Solar panels are financially beneficial for reducing your electricity bill and paying you back within a few years. Meanwhile, they are advantages for the environment as well. All the benefits of 250W and 300W solar panels are listed below. 
Reduces your electricity bill to an appreciable amount. 

Solar panels ensure a constant power supply since the sun rises and shines every day.

They are a consistent source of energy.

With a solar system, you can ensure complete energy security. 

The modules can make you completely grid-independent.

Not too much space is required to install 250W-300W solar panels.

Your roof stays protected with solar panels installed over it.

A highly durable source of electricity. 

Protects the environment by providing a clean and renewable source of energy generation.

Solar panels are available in a huge variety of brands, capacities and types and hence you have many options to choose from.
#4. Subsidy on Solar Panels
Solar panels are a revolutionary device that has helped millions of homes and businesses to become energy sufficient. Electricity has reached plenty of remote villages with solar panels used with an off-grid solar system.
But still many people hesitate to switch to solar because of the high prices. To help people financially, the Government of India is providing subsidy on solar panel. 
According to it,
A subsidy of 40% is provided for solar systems having up to 3kW capacity and 

A subsidy of 20% is provided for solar systems having 3kW to 10kW capacity.
You are not eligible to apply for a subsidy if your solar system's capacity increases further.
Learn more: Subsidy On Solar – Panel, System, Pump & Solar Product
Frequently Asked Question
Top Solar Brands in India