A 150 watt solar panel is the highest-selling model of solar panels for homes with batteries being charged by the solar inverters. It can give 8 amperes of power on an average. It is a compact and efficient module that can run 12V appliances as- 150 watt is equal to 12-volts DC output, this solar panel is suitable for solar home lighting, small solar inverter, water pumping, off-grid applications, navigation lights, traffic signals and signals. This is a particularly good option if low light is a problem on your installation site.
Solar panel of 150 watt has top quality cable and mounting hardware system, it works well even in all weather. Tempered glass construction and high efficiency crystalline solar cells are built in it.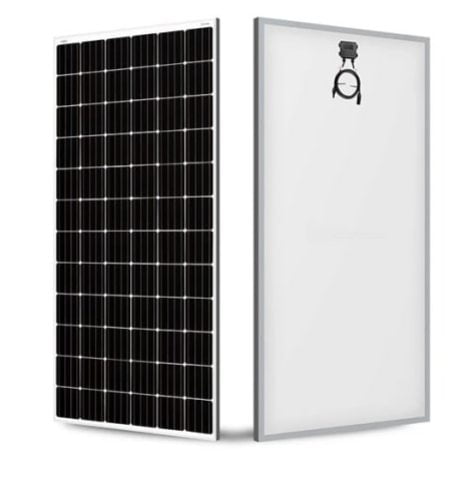 With a 150 capacity module, you can enjoy the benefits of a solar system at the cheapest prices. It is affordable and hence most popular. To help you decide whether a 150 watt solar panel is good for you, we have listed all specifications of a 150 watt solar panel with complete details including size, watts, volts, work, technical specifications and cost. And to make your purchase well analyzed, we have mentioned the best prices too. So keep reading.
There are three types of 150 watt solar panels available in the market, so it's worth spending 10 minutes reading this information and selecting the best that meet all your needs.
How does a 150 watt panel work?
A 150 watt solar panel works by setting electrons free from its cell when the sunlight strikes the solar panel. The electrons become free to move and under certain conditions of the panel, they start moving in the same direction. The flow of electrons in a particular direction generates current, particularly direct current. The direct current generated is converted to alternating current using a solar inverter as DC cannot run home appliances directly. You can use a battery to store the power for future use. 
In a nutshell, a 150 watt solar panel works by converting sunlight into direct current, which is converted to AC using an inverter and stored using a battery. 
Read in detail: How does solar panel works?
#1. 150 Watt Solar Panel Price
In India, the solar price per watt usually lies between Rs.24 to Rs.38 for every single watt. Hence, the rate highly depends on the capacity of the solar panel. Besides, brand, type, variant and your state play a major role in determining the overall price of the panels. Since 150 watt is among the lowest capacity for a solar panel, it is comparatively cheaper and affordable. 
150 watt solar panel price starts from @ Rs.4,500 with Vikram Solar to @ Rs.7,200 with Tata Solar online in India. Here is the list of top branded 150 watt solar panels with their prices.
(Inclusive of all taxes) Prices can vary ± 10% to 12% depending on location, promotions and availability, and solar brand.

Prices are exclusive of Govt. Subsidy, as the subsidy on solar systems depends on your eligibility and types of solar system.

Check our

Online Solar Shop

or

Amazon Store

for the latest price and stock availability.

 
Read more about subsidy on solar panel here: https://kenbrooksolar.com/solar-benefits-mnre-govt-subsidy
#2. Types of 150 Watt Solar Panel
The type of solar panel largely affects the overall productivity of the solar system. You must be aware of the best type of solar panel that can suit your place and budget well. There are three types of 150 Watt solar panels in general. Each has its specific value. Keep reading to know which among the three can work best for you in most of the terms. 
The three types of 150 watt solar panels are:
Both mono-crystalline and poly-crystalline solar panels perform the same function in the composite solar system. They take energy from the sun and convert it into electricity. Both of them are made of silicon, which is used for solar panels as it is a highly durable element. Still, there are a lot of differences between the two.
Monocrystalline solar panels have solar cells made of single crystals of silicon while polycrystalline have multiple silicon solar cells melted together. Monocrystalline modules are 19% efficient but expensive while polycrystalline panels are 16% efficient but cost-effective. Now it is up to you which combination of features you prefer. Or you can go with the third with the most advanced features among all.
Bifacial solar panels are the latest type of solar panels present in the market. They are designed with certain technology that can produce electricity from both sides of its surface- front and rear. This feature makes them up to 22% efficient and much more beneficial than the other two in every aspect except for the price as they are quite expensive.
Let's compare all of these 150 watt solar panels and see how they differ.
| | | |
| --- | --- | --- |
| Poly Panel | Mono Panel | Bifacial Panel |
| Panel efficiency up to 17% | Panel efficiency up to 19% | Panel efficiency up to 22% |
| Takes more roof space | Takes less roof space | Takes lesser roof space |
| Cost Effective | Expensive | More Expensive |
| Blue-ish in color | Black in color | Black in color |
| High efficiency in cloudy weather | Low efficiency in cloudy weather | Low efficiency in cloudy weather |
Read in detail about:
Mono V/s. Poly Panel
#3. Specification of 150 Watt Panel
Specifications of a 150W solar panel must be examined carefully as the panel is going to be the main component of your solar system. The output will depend largely on its build quality.
To help you learn the specifications of a 150 watt solar panel, we have mentioned a table below.
| | |
| --- | --- |
| Particular | Description |
| | 150 Watt |
| Power max (Pm) | 150 +/- 5% |
| Short circuit current | 8.85 A |
| Max power current | 8.22 A |
| Maximum voltage | 18.25 V |
| Open circuit voltage | 22.5 V |
| Maximum system voltage | 1000/600 VDC |
| Pm temperature coefficient (%/K) | -0.4 |
| Temperature coefficient | 4.7 |
| Voc temperature coefficient | -2 |
| Nominal operating cell temp. (Celsius) | 45 |
| Frame type | Aluminum |
| Weight | 12 Kg |
| Height | 4.9 Sq. Ft |
| Width | 2.2 Sq. Ft |
Note:
The specifications may be subject to change as per the solar brand and solar panel type.
Features of 150 Watt Solar Panel
A 150 watt solar panel generally comes with the following features-
Energy Security:

The panels ensure a constant and consistent power supply. 

Low Maintenance:

Cleaning the panels once a year is the only maintenance they require.
Less Space:

150 Watt solar panels are small hence require less space.
Silent operation: The solar panels work without making noise.
 

Reliable:

150 watt solar panels are highly durable with a life expectancy of over 25 years.
How many 150 solar panels do you need?
The number of 150 watt solar panels you'll need for your purpose will depend upon how much power you want to draw from them. When the environment is most suitable, the 150 watt solar panel can give 7-7.5 amperes of current and 18-20 volts. Mentioned below in the table is the answer to the question- how many 150 watt solar panels you'll need for what capacity of the solar system.
| | | |
| --- | --- | --- |
| System Capacity | Average Monthly Generation | No. of 150W Panels |
| | 120 units | 7 |
| | 240 units | 13 |
| | 360 units | 20 |
| | 600 units | 33 |
| 7.5kW Solar System | 900 units | 50 |
| | 1,200 units | 67 |
#4. Subsidy on 150 Watt Solar Panel
To reduce the initial price of a 150 watt solar panel, the Indian government provides subsidies to the users. These subsidies aid the customer financially in purchasing the solar system. As a result, you can install a 150 watt solar panel with:
20% subsidy on solar systems with a capacity between 3kW to 10kW.

40% subsidy on solar systems with up to 3kW capacity 

Upto 90% subsidy on solar water pumping system.
The subsidy rates may vary as per your state and purpose of solar installation.
Click here to know more: Subsidy On Solar – Panel, System, Pump & Solar Product
#5. Application for 150W Panel
There are lots of applications in which 150 watt solar panel is used but main applications are:
Complete 150W Solar System
A 150 watt complete solar system is ideal for small homeowners facing low light problems in their locations. The system includes a 150 watt solar panel, solar inverter, solar battery, mounting structure, connecting wires and other fixing gadgets like nuts and bolts. The system provides adequate power to run a load of a small home having around 1-3 members. 
Specifications of Complete 150W Solar System
There is a lot to know about the 150 watt solar system before installing it. Missing a piece of small information can prove to be a great threat. To ensure that you miss none, we have mentioned every important detail about the solar system in the specification table below.
| | |
| --- | --- |
| Particulars | Description |
| Solar System Capacity | 150 Watt |
| | 150 Watt |
| No. of Module | 1 Nos. |
| | Polycrystalline |
| Panel Voltage | 12V |
| Efficiency | Up to 17% |
| Warranty | 25 Years |
| | 350VA |
| Inverter Type | Off-Grid Solar Inverter |
| Maximum DC Input | 350VA |
| Voltage | 12V |
| Efficiency | 97% |
| Warranty | 5 Years |
| | 1 Nos. |
| Technology | Tall Tubular Solar Battery |
| Battery Type | C10 |
| Capacity | 75Ah |
| Voltage | 12V |
| Warranty | 5 Years |
| Other Accessories | Junction Box, AC & DC Cable, Fasteners, Cable Tie, Crimping Tool, Earthing Kit, Lighting Arrestor |
| Selling Price | Rs.32,499 (Inclusive of all taxes) |
Frequently Asked Question
Top Solar Brands in India