What is Subsidy on Solar?
Subsidy on solar is an initiative started by the Government of India so that clean and green energy i.e. solar power can reach every corporate and private sector. This will increase your savings as well as eliminate your dependence on the government grid.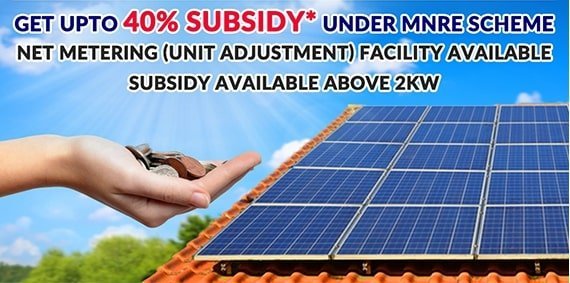 Solar energy is a source of immeasurable energy which does not create any kind of pollution. Therefore, the government is engaged in promoting solar power in every way. Solar power today is not only a substitute for our exhausting resources but has become a symbol of our progress.
Govt. Subsidy on Solar System
MNRE (Ministry of  New and Renewable Energy – Central Government) has set the target to install 227 Gigawatt (22,70,00,000 kilowatt) by 31 March 2022. To achieve this target govt. is promoting solar power in many ways. The government also sectioned an amount of Rs.5,000 crore for solar subsidies only. Now you can install solar systems with subsidies at low prices. Let us know how much subsidy you will get on the solar system and what will be the procedure to get it.
How much Solar Subsidy is available?
According to the latest notification by MNRE, 30% to 90% subsidy on benchmark capital cost is available for all consumers. But actually, how much subsidy you will get on solar panels depends on what capacity and type of solar system you are getting installed?
Let's know how much subsidy you will get for installing a solar system of which capacity.
1kW Solar System – 3kW Solar System = 40% Subsidy
4kW Solar System – 10kW Solar System = 20% Subsidy
More than 10kW Solar System = No Subsidy
Is solar subsidy available on all types of systems?
After knowing about solar subsidy rates, now the question arises whether the subsidy is available on all types of solar systems. For this, you need to have some knowledge about the type of solar system. So let's dive into it.
There are three types of solar system:
Now we come to our question of whether the solar subsidy is available on all these solar systems. The answer is, "No". The solar subsidy is available for on-grid solar systems and hybrid solar systems (without batteries only). As per new policies, there is no provision of subsidies on off-grid and hybrid solar systems.
Please Note:
Since the solar subsidy policies may vary from state to state. Please confirm the subsidy with the State Solar Department of your state before installing any kind of solar system.
Claim up to 90% Subsidy on Solar Water Pump
Yes, you heard it absolutely right. Now you can also get up to 90% subsidy on the solar water pump. For the overall development of India, the government is paying special attention to the agriculture sector. That is why to promote the use of solar-powered pumps in the field of agriculture, the government is providing a subsidy of up to 90% to the farmers. Now you can double your profits by installing solar pumps in your farms at very affordable prices.
Who can get the subsidy on solar?
Perhaps now you must be thinking that am I also eligible for subsidy on the solar system? This question bothers most people because no one gives a direct answer to it. Have a look below to know who is eligible for subsidy on solar in India.
All residential homeowners are eligible to get govt. subsidy on a solar system.
Registered societies, multi-store apartments, and cooperative group housing societies are eligible for subsidies.
Institutes like schools, colleges, universities are eligible for solar subsidy schemes.
NPOs (non-profit organizations including), old age homes, orphanages, etc are also eligible.
Farmers who want to install solar pumps in their fields can take advantage of the subsidy scheme.
Procedure to get MNRE Subsidy
The method of getting subsidy on solar has completely changed now. The way of giving subsidy to you has been made easier by the government. So let's know what is the right way to subsidize solar panel system.
The government has authorized some solar companies in each state through an open bidding system to provide the subsidy. Only these solar companies can provide you subsidy on solar.
How Solar Company Get Subsidy From the Government
First of all, the solar company will install your solar system and put a request for net metering. After the completion of the net meter request process, the net meter is connected with your solar system. Net meter generates a report of your solar system and the same report is submitted for subsidy.

MNRE will evaluate the report of your solar system and will send the subsidy amount to the account of the solar company after sanctioning. Keep in mind that the subsidy will not come in your bank account but the account of the solar company. The solar company will collect the remaining payment from you after reducing the amount of subsidy.
Click to See: List of State Nodal Agencies
S.No.
Agency Name
Agency Address
 Contact Details
1
ADMINISTRATION OF DADRA & NAGAR HAVELI
Administration of Dadra & NagarHaveli 1st Floor, South Wingh, NewCollectorate Building 66KV Road,Amli , Silvassa-396230
(Mobile : 9650256310)
District : Dadra & Nagar Haveli
(Email : admr-daman-guj[at]nic[dot]in)
State : DADRA and NAGAR HAVELI
2
AGENCY FOR NON-CONVENTIONAL ENERGY ANDRURAL TECHNOLOGY (ANERT)
Agency for Non-Conventional Energy and Rural Technology (ANERT),VikasBhavan (P.O.),Thiruvananthapuram- 695 033(Kerala)
(Mobile : 9495921353)
District : Alappuzha
(Landphone : 0471-2338077)
State : KERALA
(Email : aneesh[at]anert[dot]in)
(website : www.anert.gov.in)
3
ANDAMAN & NICOBAR ISLANDNRSE DIVISION, PROTHRAPUR,PORT BLAIR
Andaman & Nicobar Island NRSE Division, Prothrapur, Port Blair – 744105.
(Mobile : 9434260130)
District : NORTH & MIDDLE ANDAMAN
(Email : itcellelepb[at]gmail[dot]com)
State : ANDAMAN and NICOBAR ISLANDS
4
ANDHRA PRADESH - NEW &RENEWABLE ENERGYDEVELOPMENT CORPORATIONOF ANDHRA PRADESH(NREDCAP)
5-8-207/2, Pisgah Complex,Nampally, Hyderabad – 500 001
(Mobile : 9000777696)
District : Guntur
(Landphone : 040-23201172)
State : ANDHRA PRADESH
(Email : we[at]nedcap[dot]gov[dot]in)
5
ARUNACHAL PRADESHENERGY DEVELOPMENTAGENCY (APEDA)
Urja Bhawan, Tadar Tang Marg, Post Box No. 141, Itanagar-791111
(Mobile : 9436040907)
District : Lohit
(Landphone : 0360-2211160)
State : ARUNACHAL PRADESH
(Email : apeda79[at]yahoo[dot]com)
6
ASSAM ENERGYDEVELOPMENT AGENCY,(AEDA)
BigyanBhawan, ABC, Near IDBIBuilding,ABC, G. S. Road, Guwahati-781 005
(Mobile : 9864094255)
District : Baksa
(Landphone : 0361-2450646)
State : ASSAM
(Email : assamrenewable[at]gmail[dot]com)
7
BIHAR RENEWABLE ENERGYDEVELOPMENT AGENCY(BREDA)
3rd Floor, SoneBhawan,BirchandPatel Marg, Patna – 800 001 (Bihar)
(Mobile : 9470667150)
District : Patna
(Landphone : 0612-2507734)
State : BIHAR
(Email : breda[at]breda[dot]in)
8
CHANDIGARH RENEWABLE ENERGY, SCIENCE &TECHNOLOGY PROMOTIONSOCIETY (CREST)
Chandigarh Renewable Energy,Science & Technology Promotion Society (CREST)ParyawaranBhawan, 1st Floor,Madhya Marg, Sector-19-B,Chandigarh-160009
(Mobile : 9463998525)
District : Chandigarh
(Landphone : 0172-2703982)
State : CHANDIGARH
(Email : crestchandigarh[at]gmail[dot]com)
9
CHATTISGARH STATERENEWABLE ENERGYDEVELOPMENT AGENCY(CREDA)
2nd floor, CSERC Building , IrrigationColony, Shanti Nagar, Raipur, Chhattisgarh -492001
(Mobile : 8889031113)
District : Raipur
(Landphone : 0771-4019231)
State : CHHATTISGARH
(Email : aloktv[at]gmail[dot]com)
10
DELHI - ENERGY EFFICIENCY &RENEWABLE ENERGYMANAGEMENT CENTRE
8th Floor Wing "B" Delhi Secretariat I.P Estate New Delhi- 110002
District : New Delhi
(Landphone : 011-23392034)
State : NCT OF DELHI
(Email : delhi[dot]eerem[at]gmail[dot]com)
11
GOA ENGERY DEVELOPMENT AGENCY
DST&E Building, 1st Floor, SaligoPlateau Opposite Saligao BardezGoa-403511
(Mobile : 9158008605)
District : NORTH GOA
(Landphone : 0832-2407112)
State : GOA
(Email : gedagoa[at]yahoo[dot]com)
12
GUJARAT ENERGYDEVELOPMENT AGENCY(GEDA)
4th Floor, Block No. 11&12UdyogBhavan, Sector – 11,Gandhinagar – 382 017
(Mobile : 9909900652)
District : Gandhinagar
(Landphone : 079-23257252)
State : GUJARAT
(Email : director[at]geda[dot]org[dot]in)
13
HARYANA RENEWABLEENERGY DEVELOPMENTAGENCY (HAREDA)
AkshayUrjaBhwan, Institutional Plot No. 1, Sector 17, Panchkula -134109
(Mobile : 9416123050)
District : Panchkula
(Landphone : 01722585733)
State : HARYANA
(Email : birthal[dot]podre[at]gmail[dot]com)
(website : www.hareda.gov.in)
14
HIMACHAL PRADESH ENERGYDEVELOPMENT AGENCY(HIMURJA)
UrjaBhawan, Block 8/A, SDAComplex, Kasumpti, Shimla-171009.
(Mobile : 9418055515)
District : Shimla
(Landphone : 0177-2621783)
State : HIMACHAL PRADESH
(Email : himurja-hp[at]nic[dot]in)
15
JAMMU & KASHMIR ENERGYDEVELOPMENT AGENCY(JAKEDA)
Jammu & Kashmir EnergyDevelopment Agency (JAKEDA)Science and Technology DepartmentSDA Colony,Bemina ,Srinagar
(Mobile : 9419406949)
District : Srinagar
(Landphone : 0194-2490269)
State : JAMMU and KASHMIR
(Email : saleempnr[at]gmail[dot]com)
(website : www.jakeda.jk.gov.in)
16
JHARKHAND RENEWABLEENERGY DEVELOPMENTAGENCY (JREDA)
Jharkhand Renewable EnergyDevelopment Agency (JREDA) 3rdFloor, SLDC Building, Kusai, DorandaRanchi-834002. Jharkhand
(Mobile : 9431102540)
District : Ranchi
(Email : director[at]jreda[dot]com)
State : JHARKHAND
17
KARGIL RENEWABLE ENERGYDEVELOPMENT AGENCY(KREDA)
Baroo Tsog, District Kargil-Ladakh, Jammu & Kashmir, Pin -194105
(Mobile : 9419029088)
District : Kargil
(Landphone : 01985-232316)
State : JAMMU and KASHMIR
(Email : kredakargil[at]gmail[dot]com)
18
KARNATAKA RENEWABLEENERGY DEVELOPMENTAGENCY LTD. (KREDL)
Karnataka Renewable EnergyDevelopment Agency Ltd. (KREDL) No. 39, "Shanthigruha" BharathScouts & Guides Building, PlaceRoad, Bangalore- 560 001
(Mobile : 9448451535)
District : Bangalore
(Email : kredlmd[at]gmail[dot]com)
State : KARNATAKA
19
LADAKH RENEWABLE ENERGYDEVELOPMENT AGENCY(LREDA)
Block II, 1st Floor, Hill CouncilSecretariat, Leh-Ladakh, (194101)Jammu & Kashmir, India
(Mobile : 9906977888)
District : Leh (Ladakh)
(Landphone : 1982-257410)
State : JAMMU and KASHMIR
(Email : reubengergan[at]gmail[dot]com)
(website : www.ladakhenergy.org)
20
LAKSHADWEEP - ELECTRICITY DEPARTMENT
Electricity Department Lakshadweep Administration , Kavaratti – 682555
(Mobile : 9650235986)
District : Lakshadweep
(Email : lk-admin[at]nic[dot]in)
State : LAKSHADWEEP
21
MAHARASHTRA ENERGYDEVELOPMENT AGENCY(MEDA)
Maharashtra Energy DevelopmentAgency (MEDA), Sl.No. 191/A,Phase1, 2nd Floor, MHADACommercial Complex Opp. TridalNagar, Yerawada, Pune – 411006(Maharashtra)
(Mobile : 9552002102)
District : Pune
(Landphone : 020-26614403)
State : MAHARASHTRA
(Email : solar[at]mahaurja[dot]com)
22
MANIPUR RENEWABLEENERGY DEVELOPMENTAGENCY (MANIREDA)
Manipur Renewable EnergyDevelopment Agency (MANIREDA),Department of Science, Technology,Sai Road, Takyelpat,Imphal-795001 (Manipur)
(Mobile : 9436039468)
District : IMPHAL
(Landphone : 0385-2452685)
State : MANIPUR
(Email : mlou_singh[at]yahoo[dot]com)
23
MEGHALAYA NONCONVENTIONAL & RURALENERGY DEVELOPMENTAGENCY (MNREDA)
Meghalaya Non-conventional & Rural Energy Development Agency (MNREDA) Near BSF Camp, P.O.Mawpat Shillong – 793 001(Meghalaya)
(Mobile : 9436102916)
District : South Garo Hills
(Email : mnreda[dot]dir[at]gmail[dot]com)
State : MEGHALAYA
24
MP URJAVIKAS NIGAM LTD.
MP UrjaVikas Nigam Ltd.,UrjaBhawan, Link Road No.2 ShivajiNagar, Bhopal -462016
(Mobile : 7558556526)
District : Bhopal
(Landphone : 0755-2556526)
State : MADHYA PRADESH
(Email : mduvnb[at]gmail[dot]com)
(website : www.mprenewable.nic.in)
25
NAGALAND RENEWABLEENERGY DEVELOPMENTAGENCY (NREDA)
Nagaland Renewable EnergyDevelopment Agency (NREDA)Department of New and RenewableEnergy Old Industries & Commerce Office Building Upper Chandmare, Kohina-797001Nagaland.
(Mobile : 9436005673)
District : Kohima
(Email : dirdnre[at]gmail[dot]com)
State : NAGALAND
26
ODISHA RENEWABLE ENERGY DEVELOPMENT AGENCY
Odisha Renewable EnergyDevelopment Agency S-59,Mancheswar Industrial EstateBhubaneswar – 751 010 (Odisha)
(Mobile : 9668582360)
District : Baleshwar
(Email : ceoreda[at]oredaorissa[dot]com)
State : ORISSA
27
PUNJAB ENERGYDEVELOPMENT AGENCY(PEDA)
Punjab Energy Development Agency(PEDA) SCO 134-136, Sector 34-A,Chandigarh-160036
(Mobile : 9876693975)
District : Ludhiana
(Email : blsingh29[at]rediffmail[dot]com)
State : PUNJAB
28
RAJASTHAN RENEWABLEENERGY CORPORATIONLIMITED (RRECL)
Rajasthan Renewable EnergyCorporation Limited E 166 YudhisterMarg CScheme Jaipur 302001Rajasthan
(Mobile : 9413333095)
District : Jaipur
(Landphone : 0141-2225859)
State : RAJASTHAN
(Email : rrec_jaipur[at]yahoo[dot]co[dot]in)
29
RENEWABLE ENERGY AGENCY OF PONDICHERRY
Renewable Energy Agency ofPondicherry No.10, Second Main Road, Elango Nagar,Pondicherry – 605011.
(Mobile : 9876485962)
District : Puducherry
(Landphone : 0413-2354319)
State : PUDUCHERRY
(Email : pdreap[at]gmail[dot]com)
30
SIKKIM RENEWABLE ENERGY DEVELOPMENT AGENCY
Sikkim Renewable EnergyDevelopment Agency, Government ofSikkim, D.P.H. Road (NearJantaBhawan), Gangtok – 737 101.(Sikkim)
District : East
(Landphone : 044-28224830)
State : SIKKIM
(Email : siphoratargain[at]sreda[dot]gov[dot]in)
31
TAMIL NADU ENERGYDEVELOPMENT AGENCY(TEDA)
Tamil Nadu Energy Development Agency (TEDA) 5th Floor, Door No. 68 College Road, EVK SampathBuilding, Maaligai, Chennai – 600 006
District : Chennai
(Email : cmdteda[at]gmail[dot]com)
State : TAMIL NADU
32
TELANGANA STATERENEWABLE ENERGYDEVELOPMENT CORPORATIONLTD (TSREDCO)
Executive Engineer 5-8-207/2, PisgahComplex, Nampally, Hyderabad, 500001
(Mobile : 9948052767)
District : Hyderabad
(Landphone : 040-23201502)
State : TELANGANA
(Email :se[at]tnredcl[dot]telangana[dot]gov[dot]in)
(website : www.tnredcl.telangana.gov.in/)
33
TRIPURA RENEWABLE ENERGYDEVELOPMENT AGENCY(TREDA)
Tripura Renewable EnergyDevelopment Agency (TREDA)VigyanBhawan, 2nd Floor, PanditNehru Complex Gorkhabasti, Agartala – 799 006
(Mobile : 9436167937)
District : North Tripura
(Landphone : 0381-2325900)
State : TRIPURA
(Email : tredaagartala[at]gmail[dot]com)
34
UP NEW AND RENEWABLEENERGY DEVELOPMENTAGENCY (UPNEDA)
UP New and Renewable EnergyDevelopment Agency (UPNEDA)VibhutiKhand, Gomti Nagar, Lucknow – 226 010
(Mobile : 9415609002)
District : Lucknow
(Landphone : 0522-2720652)
State : UTTAR PRADESH
(Email : dirupneda[at]gmail[dot]com)
(website : www.neda.up.org.in)
35
UTTRAKHAND RENEWABLEENERGY DEVELOPMENTAGENCY (UREDA)
Uttrakhand Renewable EnergyDevelopment Agency (UREDA) UrjaPark Campus, Industrial Area, PatelNagar,Dehradun-248001
(Mobile : 8307604555)
District : Dehradun
(Landphone : 0135-2521387)
State : UTTARAKHAND
(Email : director[dot]uredahq[at]gmail[dot]com)
36
WEST BENGAL RENEWABLEENERGY DEVELOPMENTAGENCY (WBREDA)
West Bengal Renewable EnergyDevelopment Agency (WBREDA)Bikalpa Shakti Bhawan, Plot- J-1/10,Sector- V, EP & GP Block, Salt Lake,Electronic Complex, Kolkata- 700091
(Mobile : 9433170537)
District : Kolkata
(Email : director[dot]wbreda[at]gmail[dot]com)
State : WEST BENGAL
37
ZORAM ENERGYDEVELOPMENT AGENCY(ZEDA)
Zoram Energy Development Agency(ZEDA), ZEDA Building, Above 132KV Sub - Station, Zuangtui, P.O,Zemabawk–796017 Aizawl, Mizoram
(Mobile : 9436145042)
District : AIZAWL
(Email : zedaaizawl[at]hotmail[dot]com)
Return On Investment on Solar
Residential and commercial customers who are paying more than Rs.1,000 as monthly electricity bills should consider installing an on-grid solar system to save their electricity bills. It not only saves your money but also will give you an amazing return on investment. Look at the ROI calculator below for more details.
Click to See: Return on Investment on Solar (Capacity-Wise )
| | | | | | | |
| --- | --- | --- | --- | --- | --- | --- |
| Solar Plant | Solar Plant Cost | Govt. Subsidy | Cost After Subsidy | Generation/Month | Monthly Saving | Payback Period |
| | Rs.58,000 | Rs.23,200 | Rs.34,800 | 120 units | Rs.960 | 4.5 Years |
| | Rs.93,000 | Rs.37,200 | Rs.55,800 | 240 units | Rs.1,920 | 4.5 Years |
| | Rs.1,30,000 | Rs.52,000 | Rs.78,000 | 360 units | Rs.2,880 | 4.5 Years |
| | Rs.2,03,000 | Rs.40,600 | Rs.1,62,400 | 600 units | Rs.4,800 | 4 Years |
| | Rs.3,82,000 | Rs.76,400 | Rs.3,05,600 | 1440 units | Rs.11,520 | 3 Years |
An on-grid solar system gives you subsidy benefits as well as net metering benefits. You can run all your appliances in the daytime by using solar power. Keep in mind that at this time you are not using grid electricity and hence your electricity bill is not increasing during the day.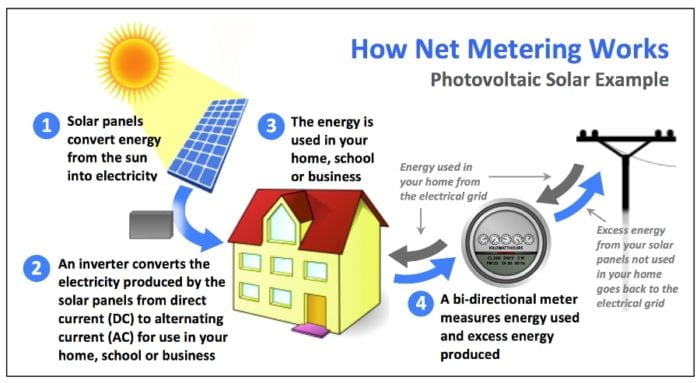 If your solar system is generating more electricity than you consume, you can export it to the utility grid through a net meter. A net meter is a small device that allows you to inject electricity into the government grid. It measures the units of electricity that have been exported by you to the grid. At the end of the month, the government will adjust it in your electricity bill and pay you a certain amount as per your export.
In case your solar system is generating less solar energy than your consumption, then you can use grid electrified without any problem. Because the grid connection will already be connected to your home appliances.
Accelerated Depreciation & Tax Benefit
Commercial, private, and industrial customers can leverage accelerated depreciation benefits. Solar power generation projects have the option of profiting from accelerated depreciation benefit by the central government, as per section 32 of the Income Tax Act, 1961. Companies can use this to substantially reduce their tax burden in the first few years of the project up to 100% of the project cost (80% accelerated depreciation and 20% additional depreciation)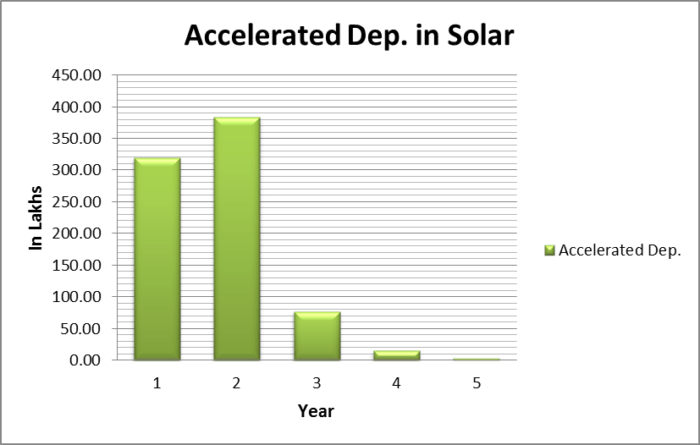 Under section 80-IA of the Income Tax Act, 1961 the central government provides a 10-year tax holiday, in which the beneficiary has the freedom to choose a 10-year continuous period in the first fifteen years of the project life to avail the tax benefit. The projects are taxed by using the Minimum Alternate Tax (MAT) rate, which is significantly lower than the corporate tax rate.
The central government has mandated concessions and exemptions on specific materials imported for the manufacture of solar power generation products as well as for use in solar power generation projects.
What is the "Government Subsidy Scheme" on solar system?
In a government subsidy scheme, 20% to 90% benchmark cost of your solar system will be paid by the government on your behalf.
Is the subsidy scheme similar for all states of India?
No, the rate of subsidy on solar is different from state to state. There is 90% subsidy on solar water pump for farmers, 70% subsidy for hill states (H.P, UK, and J&K only), and 30% subsidy available for all states in India.
Which type of solar system is applicable for the subsidy?
How much subsidy will I get on the solar system?
The rate of the subsidy varies from state to state. Each state has its solar department and different solar policies. Generally, the government provides 20% to 90% subsidies in India.
Is the rate of subsidy different for home use and commercial use?
Yes, the government provides subsidy only for domestic use, social sectors, educational institutes, and non-profit organizations. There is no government subsidy for a commercial solar system.
How many states are providing subsidies for solar system?
In India, almost all the states are providing subsidies on solar system.
How much time will it take to release the subsidy?
It varies as per your state solar policy. But as on average, it takes 3 to 6 months to get credited to the solar company's account.
What is the procedure to apply for subsidy on the solar system?
Almost every state has its online portals to apply for the subsidy. Through them, you can contact your state nodal agency.
Will the solar subsidy come into my account or it go directly to the solar company?
Will I get the subsidy if I install the solar system without the government's permission?
No, in that case, you will not get the subsidy. If you want to get the subsidy on your solar system then pre-approval by your state government is must.
Will my property tax grew up if I install a solar system at my property?
No, your property tax is totally a different thing.
How can I contact my state solar department?
We have provided the details above. From there you can see the nodal agencies of your state, their addresses, and their contact numbers.
Top Solar Brands in India