300 watt 24 volt solar panel is a cost-effective way of generating electricity for both the residential and industrial sectors. It's a high efficiency solar panel, suitable to power small to large size load. The panel absorb sunlight and convert it into solar power with 17% to 21% efficiency.
An important metric to consider when comparing solar panel options is the power rating of a panel, called wattage. A 300 watt is close to the average wattage of a solar panel available today and is suitable for all types of solar projects.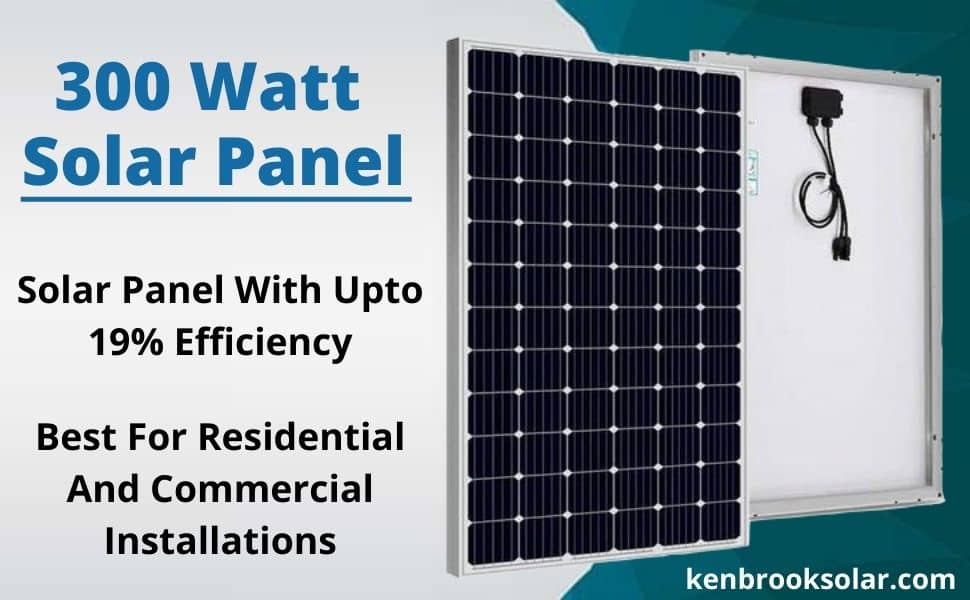 This single 300 watt panel is capable of powering small loads up to 150 watt load with a single battery inverter like Gamma+ solar inverter. You can connect up to 3 panels of 300 watt on 1kVA Gamma+ solar inverter as per your load or requirement. 
There are three types of 300 watt solar panel available in the market, so it's worth spending 10 minutes reading this article and selecting the best as per your needs.
300W Panel
Quick Overview
#1. 300W Solar Panel Price List
The prices of solar panel have been changed recently. The prices of solar are measured in solar price per watt and the price of 300 watt solar panel ranges from Rs.24 per watt to Rs.54 per watt for home in India. 
Here, we have a list of India's leading solar panel brands as well as their pricing for 300 watt solar panels. The prices include transportation, installation, net metering and all other charges.
(Inclusive of all taxes) Prices can vary ± 10% to 12% depending on location, promotions and availability, and solar brand.
Prices are exclusive of Govt. Subsidy, as the subsidy on solar systems depends on your eligibility and types of solar system.

 
Read more about subsidy on solar panel here: https://kenbrooksolar.com/solar-benefits-mnre-govt-subsidy
How Does A 300 Watt Solar Panel Work?
A 300 watt solar panel is a composition of many small solar cells. When sunlight hits these solar cells they absorb that light and convert it into DC electricity. There is a positive layer and a negative layer in a solar panel,  which then creates an electric field. This current is collected by the solar panels and sent to the solar inverter subsequently which converts it into alternative current or AC form.
#2. Types of 300 Watt Solar Panel
The 300-watt solar panel is a high efficiency solar panel that is available in three different types. These types are:
Monocrystalline Solar Panel
Polycrystalline Solar Panel
#3. 300 Watt Mono V/s. Poly Panel
| | |
| --- | --- |
| Poly-crystalline | Mono-crystalline |
| Panel efficiency up to 16%. | Panel efficiency up to 19%. |
| It takes more rooftop space. | It takes less rooftop space. |
| Cost effective. | Expensive solar panel. |
| Looks bluish in color. | Looks black in color. |
| Low efficiency in cloudy weather. | Better efficiency even in low light. |
Click to see the detailed comparison between:
Monocrystalline Vs. Polycrystalline Solar Panel
#4. Specification of 300W Panel
A 300 watt solar panel is high-performance solar panel. It has high-performance trackers that generates comparatively more electricity than other similar products in the market. Here we have all technical specifications. Have a look below.
| | |
| --- | --- |
| Particulars | Description |
| Rated power | 300 W |
| Open circuit voltage | 44.5 V |
| Max. power voltage | 35.5 V |
| Short circuit current | 8.65 A |
| Max. power current | 8.22 A |
| Module dimension | 1968 x 987 x 40mm |
| Operating temperature | -40 C to +85 c |
| Module efficiency (%) | >19% |
| Max. system voltage | 1000 |
| Series fuse rating | 15 |
| Junction box | IP 65 / IP 67 |
| Output cables | 4mm², min. 900mm length |
| Connectors | MC4 Compatible |
| Protection | SCHOTTKY BYPASS DIODES |
| Cell layout | 10 x 6 |
| Frame | Anodized aluminum |
| Weight | 22kg |
| No. of Solar Cells | 72 (156 x 156 mm) |
| Selling Price | Rs. 7,200 to 8,800 (Inclusive of all taxes) |
How many solar panels are required in a solar system?
It's often seen that people want to install
solar system
, but they don't have any idea of how many solar panels they will have to install to meet the electricity needs of their house.
But now you have no need to worry.
You can find out the quantity of solar panels according to the capacity of the solar system from the table given below.
#5. Application For 300 Watt Panel
A 300 watt solar panel alone can't handle much load but if it is connected in series then it can run a heavy load very easily. There are lots of applications in which 300 watt solar panels are used but the most common applications are mentioned below.
#1. Solar Conversion Kit
If you have a single or double battery inverter at home. You can easily convert it into a solar system using this solar panel with a small solar device called a "solar charge controller". These solar panels and a solar conversion kit will convert your existing home inverter into a hybrid inverter, allowing you to start using solar energy for regular day-to-day operations.
#2. Solar Home Lighting System
You can use this panel with your 24 Volt home lighting system. Solar home lighting system is one of the best way to light up your home and power your small appliances using the sun's energy. 300 watt solar panel is a pocket as well as an environment friendly solar solution for home lighting systems. 
#3. Off Grid Solar System
Off-grid solar system is a battery based solar system that provides power backup during power outages and nights. This system allows storing excess solar power into the solar battery that can be used later as required. 
#4. On Grid Solar System
An on-grid solar system works with the utility grid. In this system, surplus power, which is not consumed in the home, is automatically exported to the electricity grid via a bi-directional meter which results in reduction of power bills. 
#5. Hybrid Solar System
Hybrid solar system is a combo of on grid and off grid solar system. The electricity generated by the solar panel is first used to power the home. If the home's electrical need is over, the access electricity will begin to be stored in the solar battery. After the battery is full, the rest of the electricity will be exported to the grid automatically.
#6. Solar Water Pump
Solar water pump has emerged as a modern technology of farming. These pumps lift the water from various surfaces using electricity generated by solar panels. This pump is being used in the agriculture sector as well as now in residential sectors for drinking water, fountains etc.
#7. Solar Air Conditioner
A solar air conditioner is powered by solar energy rather than grid electricity. It reduces both your energy bill as well as your carbon footprint. These are modern technology solar air conditioners that can either be powered by solar power, a solar battery, or the power grid.
#6. Complete 300W Solar System
A complete 300 watt solar system is a small, portable and compact solar system that is ready to power your small household devices at all times.
After connecting the solar panel with the solar battery, you can use it to power a variety of electrical appliances such as fans, TVs, LED lights, and so on.
Here are the detailed specifications of the Luminous 300 watt solar system with solar panel, solar battery, solar inverter.
| | |
| --- | --- |
| Particular | Description |
| Solar System | 300 watt |
| Solar Panel | 2 * 160 |
| Solar Battery | 150Ah |
| Solar Inverter | 850VA |
| Brand | Luminous Solar |
| Output power | 325 watts |
| Space requirement | 20 sq. feet |
| Operating voltage | 12 Volt |
| Panel technology | Poly-crystalline |
| Manufacturer warranty | 1 year on manufacturing defects |
| Performance warranty | 25 Years |
| Wattage | 325 |
| Voltage at max power | 35.90 |
| Current at max power | 8.36 |
| Open circuit voltage | 44.50 |
| Short circuit current | 8.83 |
| Number of cells | 72 |
| Weight | 22 Kg |
| Height | 6.4 feet |
| Width | 3.2 feet |
| Selling Price | Rs. 39,999 (Inclusive of all taxes) |
Frequently Asked Question
Top Solar Brands in India