Description
About 100watt Solar Panel
UTL 100 watt solar panel is one of the top rated solar panel with high quality 'A' grade solar cells and ultra clear tempered glasses that doesn't break easily. It has the ability to perform efficiently even in and cloudy weather. UTL 100 watt 12V solar PV module comes with an IP 65-rated front-side junction box.
This is the best solar panel to be installed on an existing single battery inverter for home. It is cost effective way to produce your own solar power and you will be able to power the small devices that you connect to this panel.
Choosing UTL's 100 watt solar panel is best for you. There are traditional solar cells is used in solar panel that are made of silicon. Solar cells can be poly-crystalline (from multiple sources).
UTL 100 Watt Solar Panel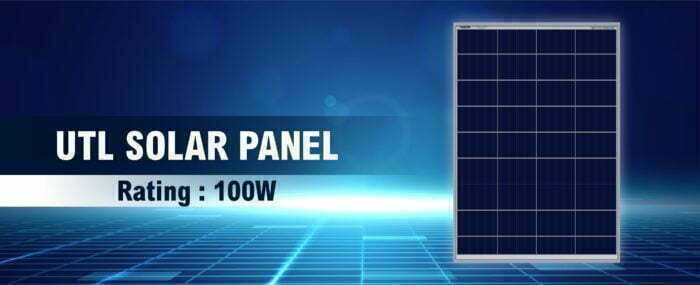 Product Specification
| | |
| --- | --- |
| PARTICULARS | DESCRIPTION |
| Solar Panel Rating | 100 Watt |
| Panel Type | Polycrystalline |
| Short circuit current | 6.3 ampere |
| Operating voltage at Pmax VMP | 17.9 volt |
| Operating current Imp | 5.7 ampere |
| Open circuit voltage VOC | 21.6 volt |
| Module efficiency | >15 % |
| Operating temperature | -40 °C to 80 °C |
| Maximum system voltage | 100 V |
| Power Tolerance | 3% |
| Fill factor | 77% |
| Standard test condition | Irradiance of 1000 W/m square, spectrum AM 1.5 and cells temperature of 25 °C |
| Max. series fuse rating | 10 |
| No. of Busbar | 4BB |
| No. of cells | 36 |
| Cell arrangement | 9*4 |
| Module dimension | 1006*666*35 mm |
| Weight | 10.5 Kg |
| Front side junction box | IP65 |
| Frame | Anodized Aluminium Alloy |
| Front glass | 3.2mm Toughened Textured |
| Cables and connectors | 4mm, AWG 1000V/mc4 connectors |
| Warranty | 25 Years Performance & 10 Year Product Warranty |