A solar panel, also known as a photovoltaic (PV) module is a configuration of solar cells ascended in a glass-enclosed frame for installation. The 350 watt solar panel is the most selling solar panel in India which works in low light and even cloudy weather. The cells inside the solar panel are made up of A grade, anti-pied cells.
The 350-watt solar panel is gaining huge popularity these days as it is a high efficiency solar panel. It is made of 72 solar cells, which gives up to 22% efficiency, depending upon the type of solar panel. The panel comes with 5 bus bars and a 25 year performance warranty. Also, the IP67 rated junction box is supplied with an MC4 connector for high module efficiency.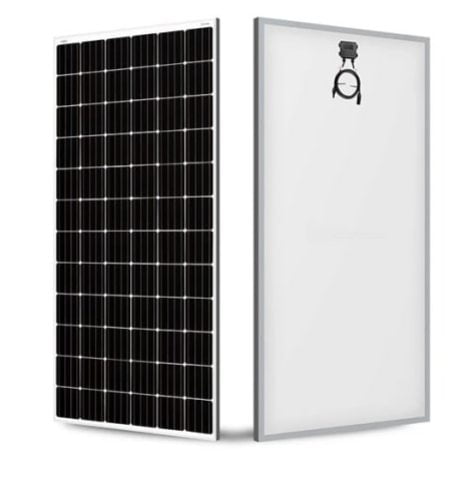 Solar panels come with a wide variety of rating options so that you can choose the one that can meet most of your specific requirements. Since a 350 watt solar panel is an ideal panel option for several solar projects, this article will provide you with complete details about this solar panel. 
There are three types of 350 watt solar panel available in the market, so it's worth spending 10 minutes reading this information and selecting the best type of solar panel that meet all your needs.
How does a 350 watt solar panel work?
When the top surface of a solar panel absorbs sufficient solar radiation, the solar panel with the properties of a semiconductor permits some of its electrons to flow. This flow of electrons generates DC power during the day.
The respective series and parallel connection ensure maximum current and desired voltage. A charge controller maximises this power and converts the power to be used as AC with the help of a solar inverter. When the battery is available, the remaining power is stored in it. Otherwise, the power is sent back to the utility grid. 
Continue reading: How solar panel works?
#1. 350W Solar Panel Price
Since solar energy is the best-known way to generate electricity, its price is falling continuously: so that more and more people can have access to the cleanest energy. The solar panel price relies on the capacity, brand and technology variant. In India, the solar price per watt is Rs.22 – Rs.28. As you are considering buying a 350-watt solar panel, the price will range accordingly.
350 watt solar panel price starts from Rs.10,000 to Rs.16,000 for home installation in India. Solar system prices include tax, transportation, installation, net metering and all other charges.
(Inclusive of all taxes) Prices can vary ± 10% to 12% depending on location, promotions and availability, and solar brand.

Prices are exclusive of Govt. Subsidy, as the subsidy on solar systems depends on your eligibility and types of solar system.

Check our

Online Solar Shop

or

Amazon Store

for the latest price and stock availability.

 
Read more about subsidy on solar panel here: https://kenbrooksolar.com/solar-benefits-mnre-govt-subsidy
#2. Types of 350 Watt Solar Panel
There are three types of 350-watt solar panels. The classification of these solar panels is based on their aesthetic appearance, and efficiency. Each of these types is manufactured uniquely. The types are-
Poly-crystalline solar panels are manufactured with different layers of crystals that are molded together to form a single panel. These panels are the cheapest among all types of solar panel.
Mono-crystalline solar panels are expensive but highly efficient solar panels. They are made of a uniform layer, a pure silicon crystal bar.
Bifacial solar panels are the latest technology and most expensive type of solar panels. The efficiency of these solar panels are higher than poly and mono solar panels.
Here are some points that compare all these types of 350 watt solar panels.
| | | |
| --- | --- | --- |
| Poly Panel | Mono Panel | Bifacial Panel |
| Panel efficiency up to 17% | Panel efficiency up to 19% | Panel efficiency up to 22% |
| Takes more roof space | Takes less roof space | Takes lesser roof space |
| Cost Effective | Expensive | More Expensive |
| Blue-ish in color | Black in color | Black in color |
| High efficiency in cloudy weather | Low efficiency in cloudy weather | Low efficiency in cloudy weather |
Read in detail about: Mono V/s. Poly Panel
#3. Specification of 350 Watt Panel
A 350 watt solar panel comes with many great features and specifications. Here is the list of specifications that a 350 watt solar panel have.
| | |
| --- | --- |
| Particular | Description |
| | 350 Watt |
| Power max (Pm) | 350 +/- 5% |
| Short circuit current | 9.10 A |
| Max power current | 8.5 A |
| Maximum voltage | 37.5 V |
| Open circuit voltage | 45 V |
| Module Efficiency | >19% |
| | Multi crystalline |
| No of cells in series | 72 |
| Frame type | Aluminum |
| Weight | 21 Kg |
| Y-Axis mounting hole | 819.5mm |
| X-Axis mounting hole | 946 mm |
| Mounting hole dimension | 6.9 mm |
Note: The specifications may be subject to change as per the solar brand and solar panel type.
How many 350 watt solar panels do you need?
The simple answer to this question is: The number of 350-watt panels you need depends upon the amount of electricity you want to generate. Though the panel is rated 350 watts, it produces power according to several factors including the orientation of the solar panel, geographic location and shading.
Here is a table of a few systems that shows how many 350 watt solar panels you will need to produce what amount of energy.
| | | |
| --- | --- | --- |
| System Capacity | Average Monthly Generation | No. of 350W Panels |
| | 120 units | 3 |
| | 240 units | 6 |
| | 360 units | 9 |
| | 600 units | 14 |
| 7.5kW Solar System | 900 units | 21 |
| | 1,200 units | 29 |
#4. Subsidy on 350 Watt Solar Panel
The homeowners that use state electricity are living independently and causing damage to the environment unknowingly. Although solar energy is eradicating the need of using fossil fuels as the primary source of electricity, the process is quite gradual. People still hesitate to invest in the system as it is quite expensive. 
To save resources for the future generation, to support people financially and to spread awareness among more and more local residences, the government of India has come up with the scheme of solar subsidy. 
The scheme is as under
Please Note: The subsidy rats may vary as per your state and purpose of solar installation.
Click to know more: Subsidy On Solar – Panel, System, Pump & Solar Product
#5. Application for 350W Panel
When the technology was new, it found uses in the agricultural field. It used to work as a power fountain for irrigation. But with modernisation in technology, the number of uses increased manifold. There are lots of applications in which 350 watt solar panel is used but main applications are –
Solar Air Conditioner

Solar Water Purification 

Solar Vehicles
Discussing in detail the applications of 350-watt solar panels, the uses can be divided as-
#1. Residential Application
To cut the expenditure on energy consumption, 350 watt solar panels allow homeowners to warm the water, generate electricity and store it in batteries for future use.
#2. Industrial Application
Customers can buy 350-watt solar panels to use the sun's thermal energy to supply power in industry, warehouses, offices, radio and TV stations and lighthouses.
#3. Remote Application
Installing solar panels in the form of an off-grid solar system, you can power any building like schools, clinics, homes etc, located in a remote area. You can also pump water using the panels.
#4. Transportation
Even trolleys, cars, buses, light rails and other vehicles that require electricity to work, can be operated with 350-watt solar panels.
Complete 350W Solar System
A Luminous 350-watt off-grid solar system is designed to give power backup during outages. That means, it is ideal for residences that face severe power outages. It is a small solar power system which can run a peak load up to 600w. 
 If you are living in a city or village where electricity is available but power cuts are frequent, then this solar combo helps you to save electricity of almost 1.5 units per day which is used in battery charging.
Specifications of Complete 350W Solar System
| | |
| --- | --- |
| Particulars | Description |
| Solar System Capacity | 350 Watt |
| | 160 Watt |
| No. of Module | 2 Nos. |
| | Polycrystalline |
| Panel Voltage | 12V |
| Efficiency | Up to 17% |
| Warranty | 25 Years |
| | 1100VA |
| Inverter Type | Off-Grid Solar Inverter |
| Maximum DC Input | 1100VA |
| Voltage | 12V |
| Efficiency | 97% |
| Warranty | 5 Years |
| | 1 Nos. |
| Technology | Tall Tubular Solar Battery |
| Battery Type | C10 |
| Capacity | 150Ah |
| Voltage | 12V |
| Warranty | 5 Years |
| Other Accessories | Junction Box, AC & DC Cable, Fasteners, Cable Tie, Crimping Tool, Earthing Kit, Lighting Arrestor |
| Selling Price | Rs.39,999 (Inclusive of all taxes) |
Frequently Asked Question
Top Solar Brands in India