A 100-watt solar panel is the most commonly used solar panel that can generate about 6 amps of current at every peak sun hour. A single 100W solar panel can generate 1 Kilowatt-hour of power every day hence it can power small devices like cell phones, lamps, laptops, fans etc quite easily. When used in a solar kit, the solar system with several 100W solar panels can be used by homeowners for powering various home appliances.
Solar panels of 100W capacity are very convenient and are easy to install. They can be great options for beginners who want to try out solar panels. One can begin with a 100-watt solar panel starter kit and if it pleases him, he can add more solar panels and other tools to it.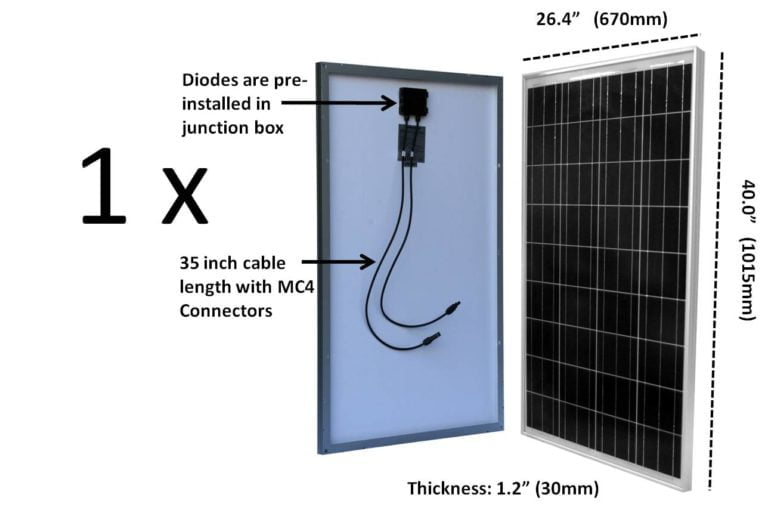 A 100-Watt solar panel is the cheapest and the smallest capacity module. It is efficient enough to produce up to 100-watt of energy if the conditions are extremely favourable. If you install the solar panel in the right manner, place it in the correct angle and direction and if it gets other optimum sunlight conditions, you can even hit 100-watt of energy production using this solar panel. Read further to know every necessary detail about a 100-Watt solar panel so that you won't mess up while buying one. 
There are three types of 100 watt solar panel available in the market, so it's worth spending 10 minutes reading this information and selecting the best that meet all your needs.
How does a 100-watt solar panel work?
A 100W solar panel absorbs the photons coming from the sun. The photons generate energy by striking the surface of the panel and this energy knocks out the electrons from their orbits. Hence the electrons become free to move. The solar cells present inside the solar panel induce an electric field to provide direction to the freely moving electrons. The electrons begin to move in a particular direction. As a result, an electric current is initiated. 
Now, this electricity can be used directly as DC or can be converted to AC using a solar inverter to run home appliances. Besides you can store this energy in a battery for using it when required.
Read in detail: How does solar panel works?
#1. 150 Watt Solar Panel Price
100 watt solar panel prices in India have been reduced in recent years. Choosing a 100 watt solar panel between so many available brands, technologies and products may not be an easy task for the buyer. We are here to help you find the best. 
To help you make your purchase the best investment you have ever made, we have listed the best prices of a 100W solar panel. 100 watt solar panel price starts from Rs.3,000 for Vikram Solar to Rs.4,500 for Tata Solar in India.
(Inclusive of all taxes) Prices can vary ± 10% to 12% depending on location, promotions and availability, and solar brand.

Prices are exclusive of Govt. Subsidy, as the subsidy on solar systems depends on your eligibility and types of solar system.

Check our

Online Solar Shop

or

Amazon Store

for the latest price and stock availability.

 
Read more about subsidy on solar panel here: https://kenbrooksolar.com/solar-benefits-mnre-govt-subsidy
#2. Types of 100 Watt Solar Panel
All solar panels are semiconductor devices that absorb the light coming from the sun and use it to produce electricity. But not all solar panels are designed in the same way. There are three types in which a solar panel can be designed and these compositions give rise to three different kinds of solar panels namely:
Polycrystalline panels are efficient and cheapest, monocrystalline panels are more efficient but expensive while bifacial modules are most efficient but quite expensive in cost.
Traditional solar cells are made of silicon, a conductive material. When solar panels are made from a single silicon crystal, they are named monocrystalline whereas when several silicon crystals melt together to form layers of silicon, they form a polycrystalline solar panel. Both of these panels can absorb the sunlight from a single side while a bifacial solar panel is a kind of monocrystalline solar panel that can absorb the sunlight from both of its sides–front and rear. 
Let's compare all of these 100 watt solar panels and see how they differ.
| | | |
| --- | --- | --- |
| Poly Panel | Mono Panel | Bifacial Panel |
| Panel efficiency up to 17% | Panel efficiency up to 19% | Panel efficiency up to 22% |
| Takes more roof space | Takes less roof space | Takes lesser roof space |
| Cost Effective | Expensive | More Expensive |
| Blue-ish in color | Black in color | Black in color |
| High efficiency in cloudy weather | Low efficiency in cloudy weather | Low efficiency in cloudy weather |
Read in detail about: Mono V/s. Poly Panel
#3. Specification of 100 Watt Panel
The specifications of a 100W solar panel should be observed carefully as it affects the overall productivity of the entire solar system. You must know what features your 100W solar panel will consist of before installing it. Be updated with the electrical, mechanical, dimensional and descriptive information about a 100W solar panel with the table mentioned below.
| | |
| --- | --- |
| Particulars | Description |
| Solar Panel Rating | 100 Watt |
| Brand | |
| | |
| Short circuit current | 6.3 ampere |
| Operating voltage at Pmax VMP | 17.9 volt |
| Operating current Imp | 5.7 ampere |
| Open circuit voltage VOC | 21.6 volt |
| Module efficiency | >16 % |
| Operating temperature | -40°C to 80°C |
| Maximum system voltage | 100 V |
| Power tolerance | 3% |
| Fill factor | 77% |
| Standard test condition | Irradiance of 1000 W/m square, spectrum AM 1.5 and cells temperature of 25 °C |
| Max. series fuse rating | 10 |
| No. of Busbar | 4BB |
| Module dimension | 1006*666*35 mm |
| Weight | 10.5 Kg |
| Front side junction box | IP65 |
| Frame | Anodized Aluminium Alloy |
| Front glass | 3.2mm Toughened Textured |
| Warranty | 25 Years Performance & 10 Year Product Warranty |
Note: The specifications may be subject to change as per the solar brand and solar panel type.
Features of 100W Solar Panel
Before installing and buying a 100W solar panel, you must be aware of what this solar panel can do for you. Here is the list of important features linked with a 100W solar panel.
#1. Saves Electricity: The free power generated by a 100W solar panel replaces the costly grid power reducing electricity bill. Hence, you can save a great amount of money if you use solar panels to power your home appliances.
#2. Energy Security: Using a 100W solar panel, you can stay relaxed even when your grid is not supplying power to your home as a solar system can illuminate your home without demanding connection with the main grid. 
#3. Silent Operation: Solar panels do not make much noise while operating. They are silent devices.
#4. Low Maintenance: Solar panels are a one-time investment. Once installed, they demand negligible maintenance.
#5. Require Less Space: Since 100W is the least capacity for a solar panel, these panels require very little space to get installed. 
How many 100W solar panels do you need?
A 100W solar panel is a small capacity solar panel for a residential installation. On average, homes use between 2kW to 10kW of energy to run several appliances. For such a network built from 100W solar panels, you'll need around 50 to 100 panels together.
So, we recommend you to installing a higher capacity solar panel instead of so many small panels. That would be simply a good choice. However, for small capacity solar systems, we have mentioned the quantity of 100 watt solar panels.
| | | |
| --- | --- | --- |
| System Capacity | Average Monthly Generation | No. of 100W Panels |
| | 24 units | 2 |
| | 36 units | 3 |
| | 60 units | 5 |
| | 120 units | 10 |
| | 240 units | 20 |
| | 360 units | 30 |
#4. Subsidy on 100 Watt Solar Panel
To promote clean and renewable energy resources, the government of India is providing subsidies to people who want to install an on-grid or hybrid solar system for their homes. For a solar system consisting of 100W solar panels, you will get a 40% subsidy (1kW onward) from the Indian government. That means the government of your state will pay 40% of the total initial cost of a 100W solar panel. The subsidy schemes are different for different states. 
The subsidy rates may vary as per your state and purpose of solar installation.
Click here to know more: Subsidy On Solar – Panel, System, Pump & Solar Product
#5. Application for 100W Panel
This 100 watt solar panel is perfect for standalone appliances and off grid applications. This panel is generally used on existing small inverter battery or run small appliances on solar like:
Though you can power your home by connecting several 100W solar panels together, here we have listed the devices which can be energised using a single 100W solar panel as they require lesser power
Ceiling fans

Lamps and Lighting

LEDs

WiFi Routers & many more.

 
Complete 100W Solar System
100W-350VA off grid solar system is a complete solar combo with solar panel, solar inverter, solar battery, structure, wires, nut-bolts and complete accessories to run your basic load of your home, business, institute etc. It can be used for running several small home appliances covering the basic home load. The system is ideal for a small family that has little energy requirements like running 1 LED light, a fan and a mobile charger. 
Specifications of Complete 100W Solar System
A 100W solar system is the best small capacity solar system. It works efficiently for small workloads and comes with the following specifications.
| | |
| --- | --- |
| Particulars | Description |
| Solar System Capacity | 100 Watt |
| | 100 Watt |
| No. of Module | 1 Nos. |
| | Polycrystalline |
| Panel Voltage | 12V |
| Efficiency | Up to 17% |
| Warranty | 25 Years |
| | 350VA |
| Inverter Type | Off-Grid Solar Inverter |
| Maximum DC Input | 350VA |
| Voltage | 12V |
| Efficiency | 97% |
| Warranty | 2 Years |
| | 1 Nos. |
| Technology | Tubular Solar Battery |
| Battery Type | C10 |
| Capacity | 60Ah |
| Voltage | 12V |
| Warranty | 5 Years |
| Other Accessories | Junction Box, AC & DC Cable, Fasteners, Cable Tie, Crimping Tool, Earthing Kit, Lighting Arrestor |
| Selling Price | Rs.16,000 (Inclusive of all taxes) |
Frequently Asked Question
The price of a 100w solar panel starts from Rs.3,000 to Rs.5,000.
Both types of solar panels are best. Polycrystalline solar panels are cheaper and easily available while monocrystalline solar panels are comparative more expensive but more efficient.
The dimension of 100 watt solar panel is 1006*666*35mm & its weight is 10.5 Kg.
It depends upon the battery rating and some other factors. For example, a 12V 50Ah battery will be charged in 2 hours if it is 20% discharged and 4 hours if it is 50% discharged. Hence, a 12V 50Ah solar battery will take around 5-8 hours to get completely charged using a 100W solar panel. 
As on average, a 100Ah solar battery that is 20% charged, it will take up to 20 hours to recharge the battery completely.
The 100 watt solar panel is a bestselling panel in the 12 volt category. This is the best fit solar panel to be installed with a single battery based inverter for home. It can be a cost effective way to produce your own solar power and you will be able to power the small devices that you connect to this panel. Hence, the solar panels are worth it.
Top Solar Brands in India