About Solar MC4 Wire Connectors
Solar MC4 Connectors are used for connect the solar panel each other with very simply way. There is a pair (male and female) of connectors in which one is male connector and second is female connector. The Solar Mc4 wire Connector make solar panel connection each other very simple. It prevents also electric shock.
MC4 stands for the "Manufacturer Multi Contact". Solar Mc4 Connector commonly used for connecting solar panels and are single contact electric Mc4 connector.
The Solar MC4 connector allows for easy construction by pushing the connectors from the side panel together by hand. But you need a device to disconnect them, and make sure that they don't accidentally disconnect when cables are pulled.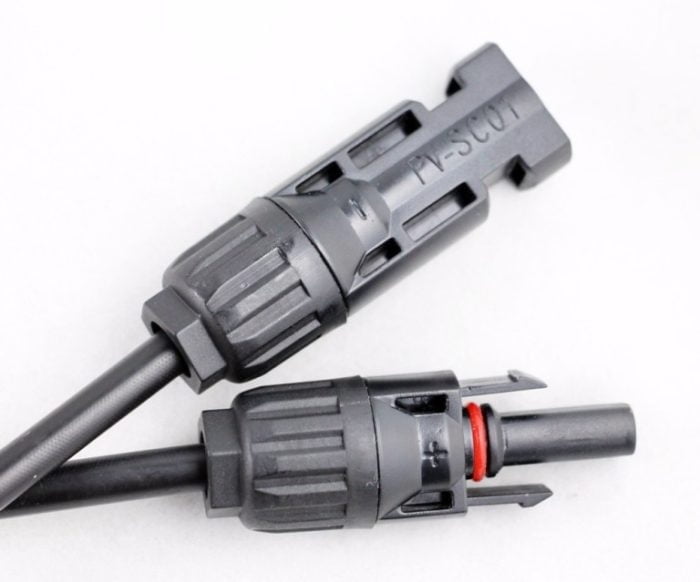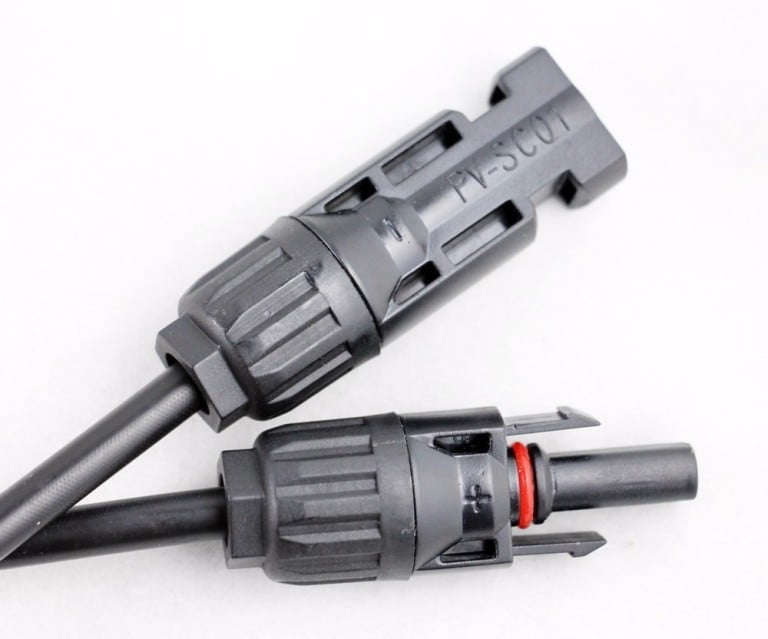 We have high quality MC4 wire Connector long life Lifespan. They are UV protected and weather resistant. MC4 is the name of the connection type. Now it come on all new solar panels, providing an IP67 waterproof and dust proof secure electrical connection. Now, Solar Mc4 Connector do not connect with older MC3 type connectors.
The solar MC4 wire connectors work best with all types of DC wires, when you buy any new solar panel (usually over 30 Watts) it will be already fitted MC4 connectors attached for you to get the power safely out of the solar panel and preventing of electric shock.
Specification of Solar MC4 Wire Connectors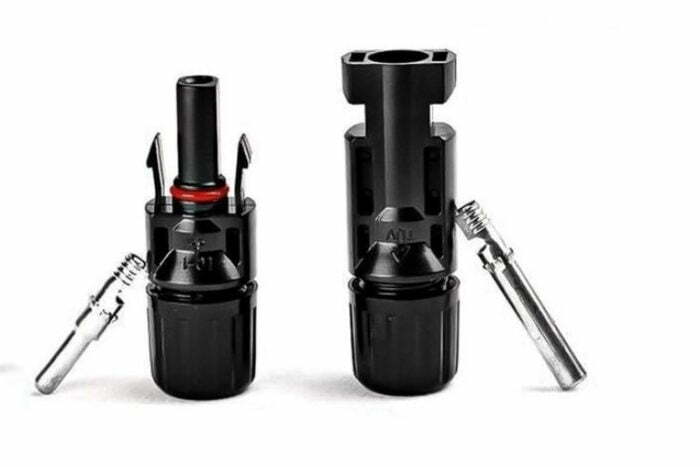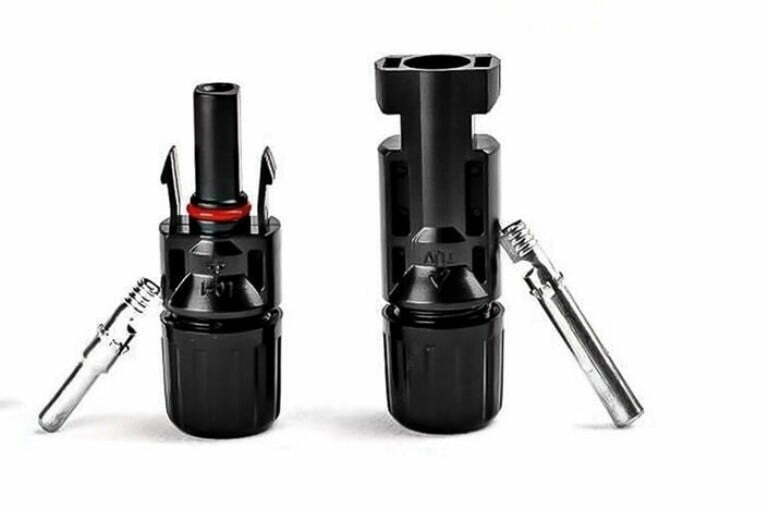 | | |
| --- | --- |
| Particulars | Description |
| Maximum Current | 45 A for 4 sq.mm |
| Rated for 1,000 volts max | -40 degrees C to +90 degrees C (-40 F to 194 F) |
| Maximum Working Voltage | DC 1500V |
| Rated Impulse Voltage | 8 kV |
| Test Voltage | 6 kV (50 Hz, 1 min) |
| Temperature range | -40 deg C to + 105 deg C |
| Upper limit temperature | 100 deg C |
| Maximum operating humidity | 5% -95% (No condensation) |
| Lock mode | Self locking |
| Insertion force | ≤90 N |
| Withdrawal force | ≥50N |
| Degree of Protection | IP 67 |
| Mating Contacts | Copper, Tin plated |
| Suitable for | 2.5mm² to 6mm² |
| Voltage | 1000V |
| Suitable Cable | 10, 12, 14 AWG [2.5, 4.0, 6.0mm2] |
| Rated Current | 30A |
| Contact resistance | ≤1mmΩ |
| Pollution degree | 2 |
| Flame class | UL94-V0 |
| Waterproof Class | IP67 |
Features of Solar MC4 Connectors
There are main features of Solar Mc4 Connectors –
Corrosion resistant
Durable
Light weight
Corrosion resistant
Easy to use
Fine finish
Protection A grade
TUV Certificated
Parallel Connection
Series Connection
Components of Mc4 Connector
Female Insulated Connector Housing
Male Insulated Connector Housing
Housing Nut with internal rubber
Female Mating Contact
Male Mating Contact
Wire Crimp Area
Locking Tab
Locking Slot
Unlock Area (press to release)
How to use / connect solar connectors?
Mc4 solar connector is very easy to use. Push the two connector pairs together such that the two locking tabs on the MC4 female connector align with the two corresponding locking slots on the MC4 male connector. When the two connectors are locked, the locking tabs slide into the locking slot and are secured. To uncheck the two connectors, press the ends of the locking tabs as they appear in the open locking slot to release the locking mechanism and pull the connectors apart. Ensure that no current is flowing when unplugging is attempted.



Step 1: Male MC4 Connector Fitting
You will notice that the wire is shorter compared to the metal crimping connector. There is a mark on the metal to indicate how far the other connectors will penetrate into it. If your cable increases this mark in the connector, you will not be able to connect the MC4 connectors together. The recommended cable stripping length on crimping is between 10 and 15 mm.
Step 2: Crimp the connector pin
Using of the MC4 connector 2.5mm, 4mm and 6mm crimp connector for this as it gives a great connection every time and holds all the bits when you crimp. The crimping tool is available on the internet (Amazon) for just approx Rs. 1399 (including all taxes). It is easy way to connect to Mc4 connectors.
Step 3: Nut on First
There is a non return clip inside the plastic housing and if you have not placed the nut on the cable you will not be able to damage it without damaging the plastic housing and it will be unsafe to use when inserting the cable.
Step 4: Insert the Cable
When you push the crimped cable into the connector, you will hear the "CLICK" sound. This is a non-return clip to the lock that folds into the plastic housing to check the rubber washer.
Step 5: Rubber Washer
Taking a closer look at the picture you will see that the rubber seal washer is flush with the end of the plastic fingers around the cable. This will give the best grip on the 4mm cable when tightening the nut on the plastic housing. If you do not do this with a 4 mm cable, the connector will be able to move around the cable and over time may damage the connection on the female connector.
Step 6: Female Crimp
We twisted the cable slightly for better surface contact inside the crimp. This cable insulation is stripped of 15 mm to expose the wire for crimping. Crimp like a male in step 2 when inserting cable.
Step 7: Insert the Cable
Check the rubber washer in step 5, and then push the crimped cable into the female housing until you hear "CLICK". Tighten the nut on the female plastic housing on the test.
Step 8: Test before Connecting
I would recommend testing the continuity of your cable with new MC4 connectors before connecting it to your solar panels or charge controller. This will confirm that you have a good connection that will last for years. Please remember to never disconnect the connectors. When the sun is on your solar panels or they are connected to a battery, you may be injured by your solar power. Stay safe and thanks for visiting our MC4 connection guide.
Warning
When the surface of the solar panel is exposed to sunlight, a DC voltage appears at the output voltage that turns it into a live voltage source that can produce electric shock. To avoid any electric shock during assembly / installation, make sure that the solar panel is not exposed to sunlight or covered to block any solar radiation.
FAQs of Mc4 Connector
Question: Is it suitable for 6sq mm cable?
Answer: Yes, It is suitable for 2.5mm, 4mm and 6mm solar DC wires.
Question: Is it suitable 10mm wire?
Answer: No sir, it is suitable for up to 6 sq. mm wires only.
Question: Is it reusable?
Answer: It's not reusable. Connectors pin once locked afterwards can't remove separately.
Question: Do I receive a GST applied bill?
Answer: Yes.
Question: Can we use it for ac current?
Answer: Yes it can be use for AC / DC current.
Question: Shall I use 35 ah battery?
Answer: Yes you can.
Question: Does this connector require a special crimping tool or can it be soldered?
Answer: If you are soldering then you will not require a crimping tool. Most people do not solder and use "Kenbrook Solar MC4 crimping tool" to properly crimp. Just search for MC4 crimping tool on Amazon and you will see how that tool looks like.
 Question: Mc4 connectors are used to connect multiple?
Answer: These are one to one connectors, multi connect variants are available.
Question: What is the maximum power rating of each connector?
Answer: 1500V 30A is the max rating of our MC4 connectors.
Question: Can we use this connector in Tata solar gold 150watt solar panels?
Answer: MC4 connectors can be used with any solar panel in general. We are not sure what connectors come with Tata Solar 150W Gold Panel.
Question How to connect connector?
Answer: The wire needs to be crimped at the ends provided for the purpose, and then it clicks into its place. Then the threaded back covers to be put on. This gives a weatherproof joint. The male to female connector is a click on type of simple assembly.
Question: I have two solar panels each have 250 watt now I want to connect in parallel so please suggest suitable connectors?
Answer: You need to buy 2 to 1 or Y branch connector.
Question: Do you get the tool also to open & close connector?
Answer: No, only connector with lugs.
Question: What is the current carrying capacity or opacity of these mc4 connectors?
Answer: 30 AMPS.