Description
Kenbrook Solar crimping tool is ideal for crimping all types of 2.5mm, 4mm and 6mm wires and solar DC cables with MC4 pins. It is portable, easy to use, and ensures perfection in crimping every time you use it. When compared to other products on the market, this crimping tool is the best option.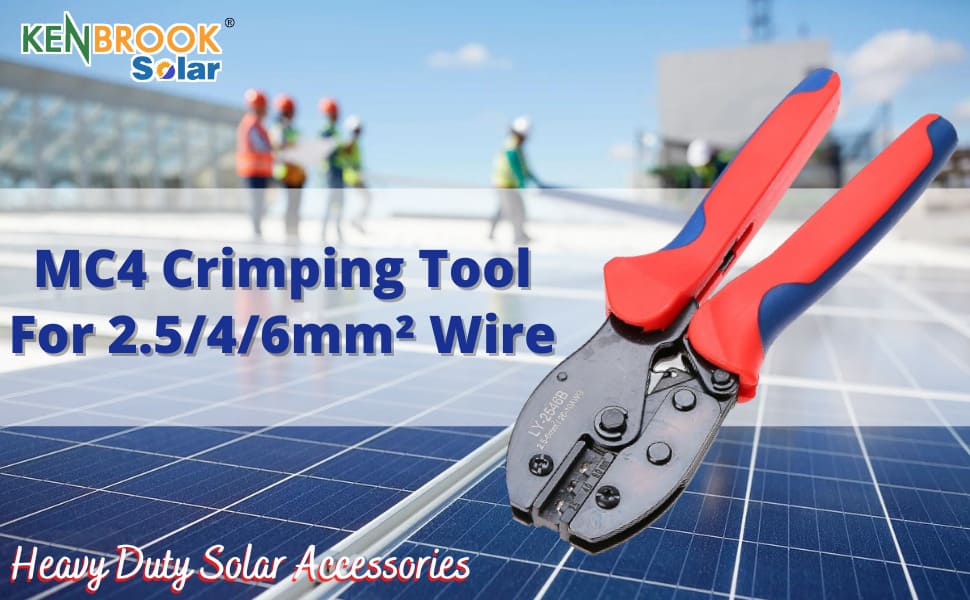 Technical Specifications of MC4 Crimping Tool
The detailed specifications of MC4 crimping tool are listed below.
| | |
| --- | --- |
| Particular | Description |
| Product Name | MC4 Crimping Tool |
| Brand | |
| Wire Support | 2.5mm²,4.0mm² & 6.0 mm² Solar DC Wire |
| Ideal For |  Crimp DC Wires with MC4 Connector Pins |
| Colour | Black Head with Red Handle |
| Pack Includes | 1 Nos. of Crimping Tool |
#1. Perfect Crimping + Smooth Grip
This crimping tool is designed for precise crimping and complete locking, which ensures high crimping quality even when crimping repeatedly. Furthermore, the perfect handle shape with a smooth gripping design helps to ensure proper rock-solid crimps every time.
Gently press the tool's handle to lock it.

Hard press the handle to unlock it.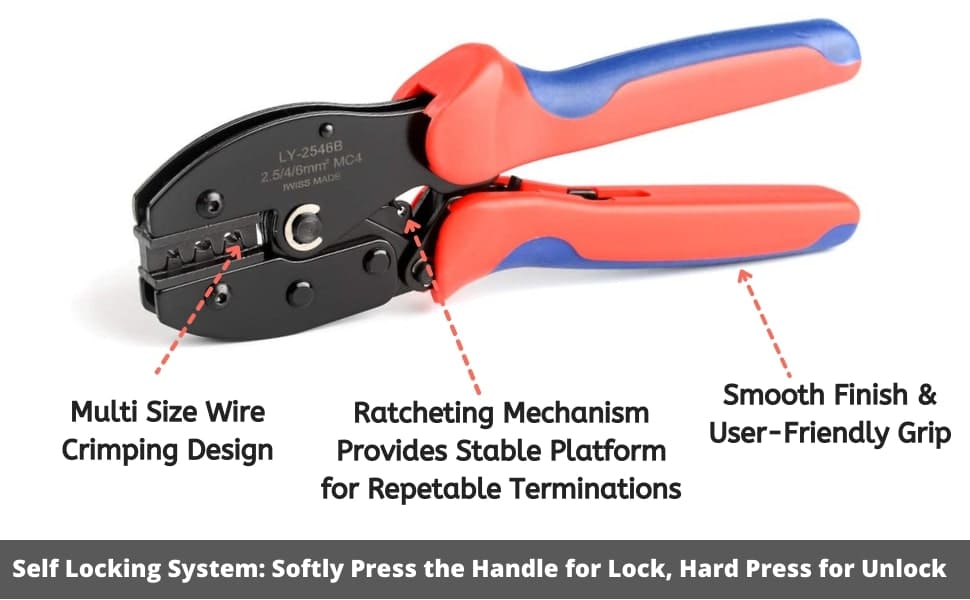 #2. How to Use MC4 Crimping Tool?
Strip the wire.

Insert the MC4 pin in the proper size crimping mold.

Insert the wire into the MC4 pin.

Press the crimping tool until the wire is properly crimped. That's it!
#3. High-Quality Material
Made of high-quality, hardened and durable carbon steel. Logical design with accurate crimping molds for rock-solid crimping. The smooth finish and user-friendly grip help in properly crimping the wire for the MC4 connector.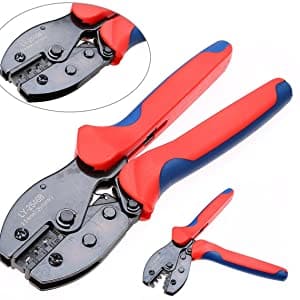 #4. Other Unique Features
This crimping tool has an efficient working mechanism and is simple/easy to use. The professional-grade crimping tool has a self-locking & releasing feature. Smoothly press the handle to lock it and hard press it to unlock it.