Description
Kenbrook Solar 10 Sq. mm MC4 connectors are heavy-duty MC4 connectors, specifically designed to keep your panel configuration's voltage consistent. These MC4 connectors will make a rock-solid connection once the pins are properly crimped with the solar DC wire.
Kenbrook MC4 connector always comes in pairs, with one male and one female connector that can be used without fear of failure for an extended period of time.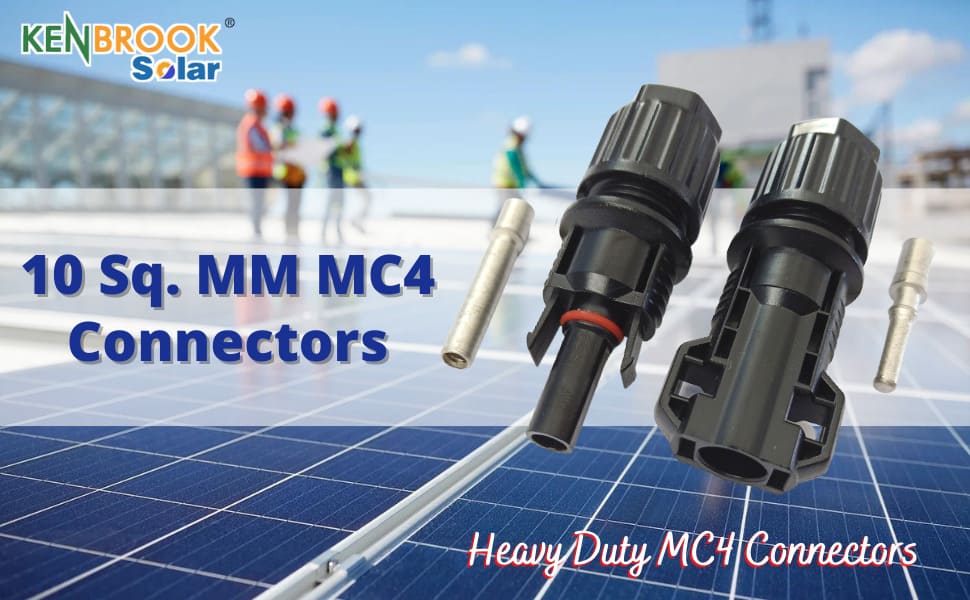 Technical Specifications of 10MM MC4 Connector
The detailed specifications of 10mm MC4 connector are listed below.
| | |
| --- | --- |
| Particular | Description |
| Product Name | 10MM MC4 Connector |
| Brand | |
| Rated Voltage | 1500VDC |
| Rated Current | 60 Amps |
| MC4 Pin Material |  Copper with Outer Tin Plate |
|  MC4 Body Material |  PPO + PA |
| Waterproof Class | IP67 |
|  Flame Class |  UL94-V0 |
|  Wire Support |  10mm² Solar DC Wire |
|  Conductor Cross Section |  8 AWG 10.0mm² |
|  Contact Resistance |  ≤5mmΩ |
|  Safety Level | Class II |
|  Pin Dimension | 10MM |
|  Set Type |  Pair (Male and Female with Pins) |
#1. Waterproof + High Current Carrying Capacity
Kenbrook Solar connectors are waterproof & are designed to withstand heavy loads in harsh environments. Our MC4 connectors have higher quality than similar products on the market because of the high-quality materials used in their manufacturing.
These 10 sq. mm heavy-duty MC4 connectors are ideal to carry heavy electrical loads up to 1500 Volt – 60 AMP current. They are aging resistant, UV endurance and are designed to withstand extreme weather conditions.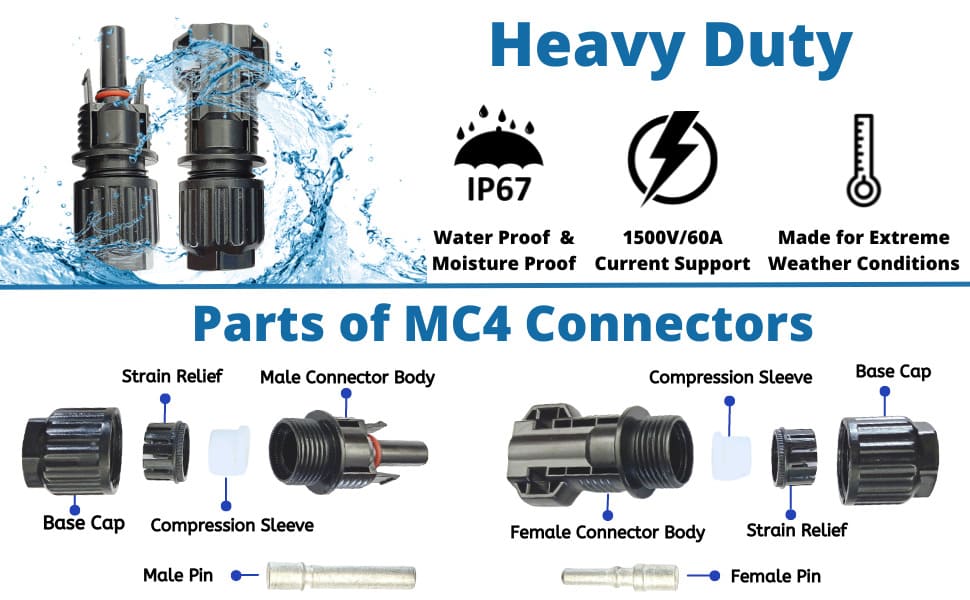 #2. Heavy Duty MC4 Connector
Kenbrook Solar 10 Sq. MM MC4 Connectors are heavy-duty solar connectors, made of high-quality PPO + PA materials for long-term durability.
These connectors are specially designed for connecting photovoltaic solar panels with high mechanical requirements.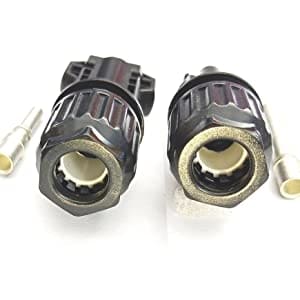 #3. Unique Features
Made of High PPO + PA Insulation Material.

Excellent Aging Resistant, UV Endurance.

Heavy-duty seal ring for secure & waterproof connections.

Quick & simple assembly, no special tool is required.

Compatible with 10 Sq. mm wire only.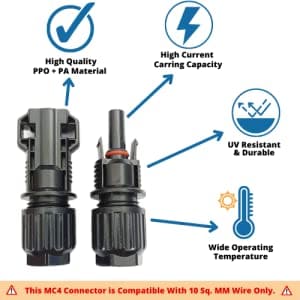 #4. Easy To Install
Strip the wire around 1.5 cm.

Properly crimp the wire using any standard 10mm crimping tool.

Insert the Male Pin to Female Connector & Female to Male.

Tight the MC4 connector properly with hand or MC4 spanner wrench.

Connect the MC4 connector and that's it!