Description
The Kenbrook Solar crimping tool + spanner set includes one heavy-duty MC4 crimper and 1 pair of MC4 spanners. Both tools are portable, easy to use and ensure perfection in their work. The crimping tool is ideal for crimping 2.5mm, 4mm, and 6mm wires/solar cables/DC wires with MC4 pins.
Technical Specifications of Crimping Tool With Spanner
The detailed specifications of MC4 crimping tool with spanner are listed below.
| | |
| --- | --- |
| Particular | Description |
| Product Name | MC4 Crimping Tool with MC4 Spanner Wrench |
| Brand | |
| Crimping Tool | |
| Crimping Tool Support | 2.5mm²,4.0mm² & 6.0 mm² Solar DC Wire |
| Suitable For |  To Crimp Wires with Non-Insulated MC4 Connector Pins |
|  Colour |  Black Head with Red Handle |
| Spanner | |
|  Spanner Type |  Gear Type Wrench with Open End |
|  Material |  Nylon Glass Fiber |
|  Spanner Color | Blue |
|  Pack Includes |  1 Nos of Crimping Tool & 1 Pair (2 Nos.) of Spanner Heavy Duty MC4 Crimping Tool |
Heavy Duty MC4 Crimping Tool
This MC4 crimping tool with a portable style and perfect handle grip is made of hardened and durable carbon steel that will provide you with years of reliable service.
It has a self-locking and releasing mechanism. The design of accurate crimping molds and complete locking ensure high crimping quality when crimping repeatedly.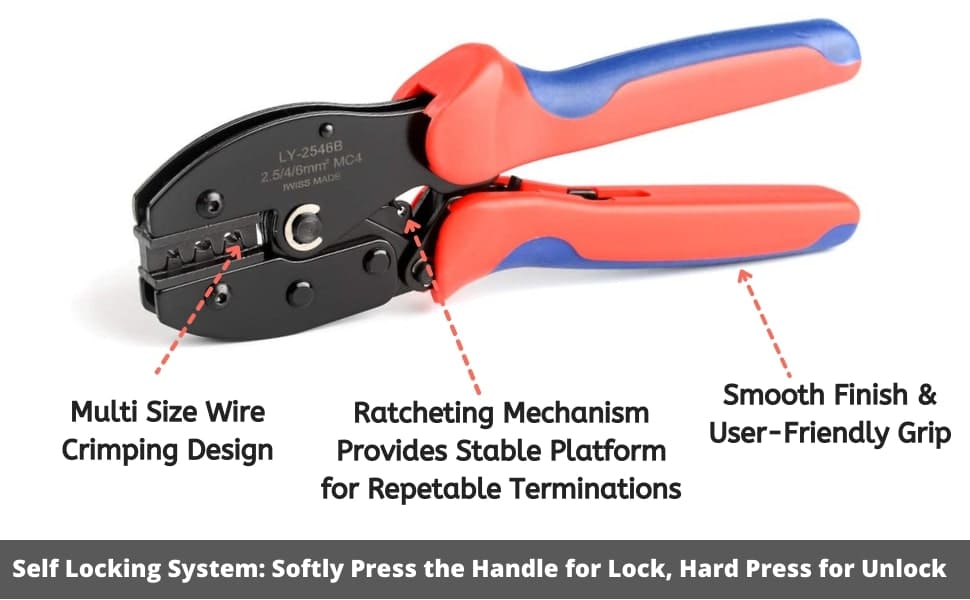 High-Quality MC4 Spanner Wrench
Professional grade MC4 spanner wrench for quick and effortless assembling & disassembling of solar MC4 connectors. It is compatible, lightweight and made from high-quality materials. Our spanners are highly durable, easy to use and designed to bring perfection.