Description
Kenbrook 6 meter solar panel cleaning kit is an effective way to clean your solar panels yourself without hiring professionals. Whether the dirt is stuck or frozen, the kit removes it with ease and makes the solar panels look brand new while increasing the production yield to a considerable extent.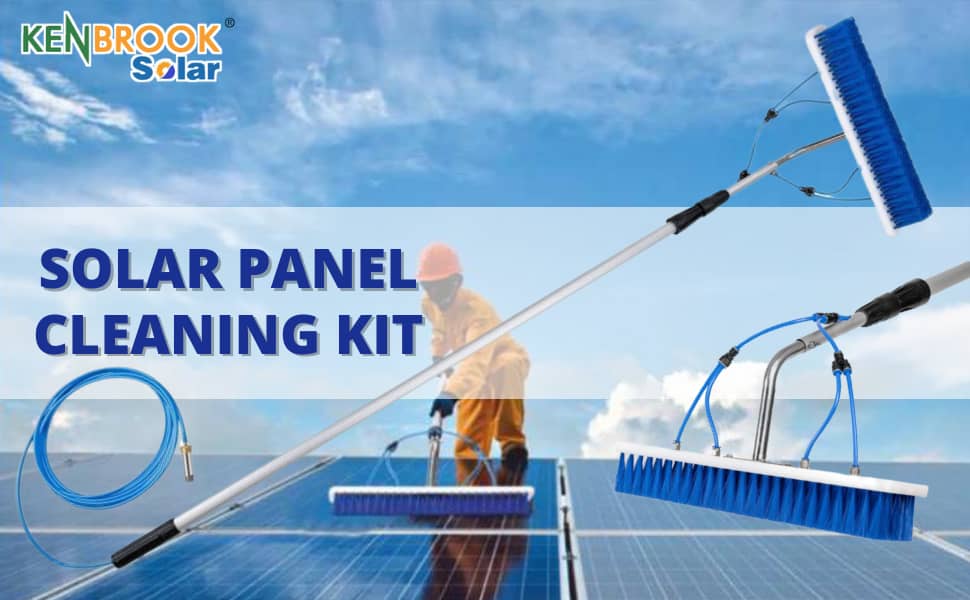 Technical Specifications of 6M Solar Cleaning Kit
The accessories and detailed specifications of the 6 meter solar panel cleaning kit are listed below.
| | |
| --- | --- |
| Particular | Description |
| Model | 6 Meter |
| Brand | Kenbrook Solar |
| Suitable For | Double Panel Row |
| Telescopic Pole | |
| Total Length | 6 Meter |
| Pole Length x Section | 2 Meter x 3 Section |
| Adjustable Range | 2 Meter to 6 Meter |
| Pole Material | Aluminium |
| Brush | |
| Brush Size | 50CM x 10CM |
| Bristle Material | Nylon Bristles (0.32mm) |
| Base Material | HD Grade Plastic |
| Water Pipe & Fitting | |
| Water Fed Pipe | 10 Meter |
| Water Fed Pipe Material | PU |
| Minimum Pressure | Water Tank Above 2 – 3 Meters From Solar Panel |
| Suggested Pump | 0.5 HP Monoblock |
| Max. Pressure Support | Up to 5 Bar |
| Water Connection Option | 15MM Thread + 12MM House Nipple |
#1. 50×10 CM Nylon Bristle Solar Brush
Specially designed scratch-free nylon bristle brush makes it simple to remove dirt and dust particles from every corner of the solar panels without damaging or scratching them.
This soft solar cleaning brush prevents scratches and scrubs the panels smoothly and effectively. Even after being pressed hard and exposed to sunlight, these bristles retain their flexibility.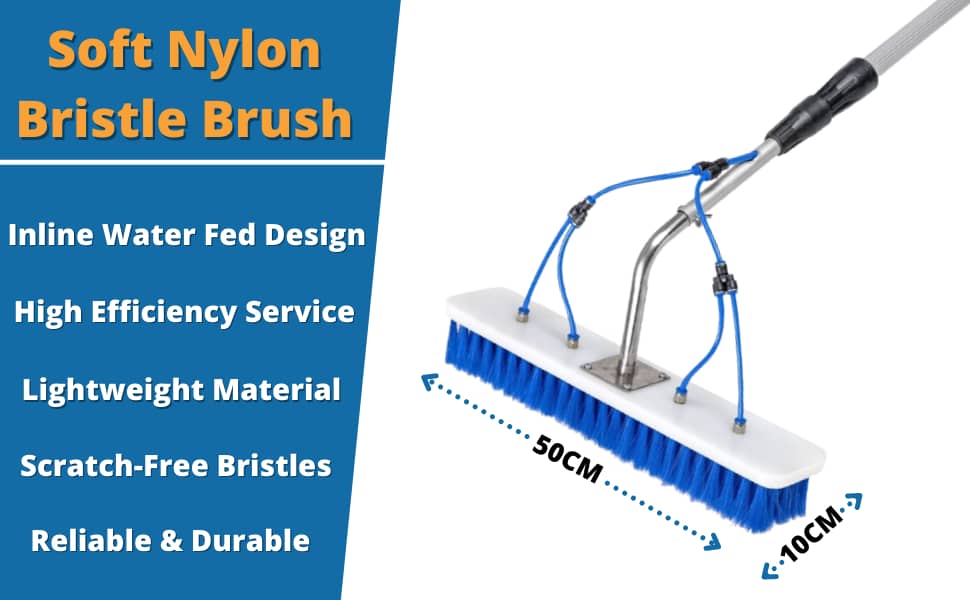 #2. Aesthetic Design + Strong & Durable
User-friendly design and high-quality materials ensure high durability. The water-fed pole is made of strong and lightweight aluminium, making it easy to use and lift.
This 6 meter cleaning kit allows you to clean the panels installed either on the rooftop or on the ground while standing at an appropriate distance.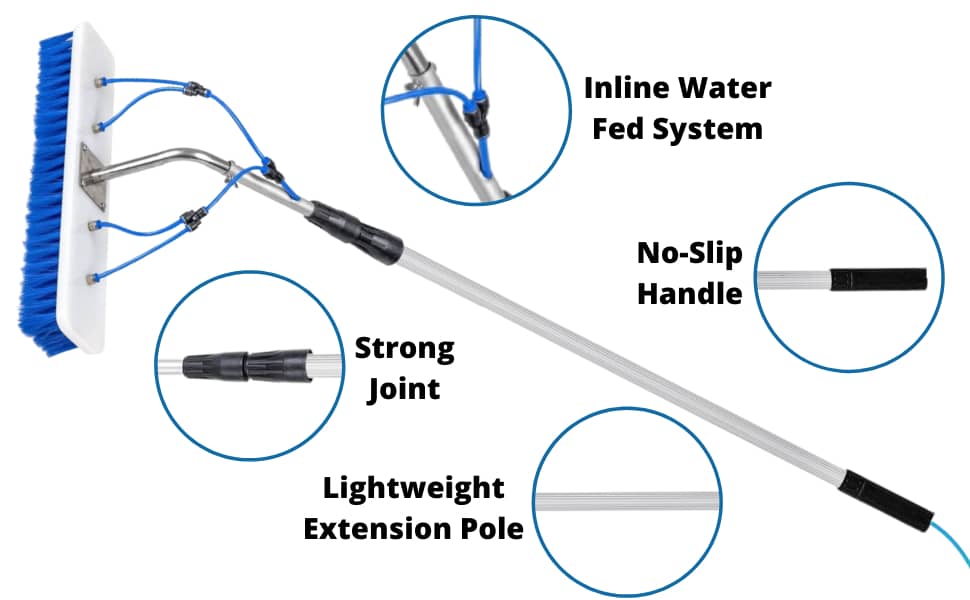 #3. High Efficiency Cleaning Service
This 6 meter solar panel cleaning kit is highly efficient and flexible at cleaning even the hard to reach parts of the panel. The lightweight aluminium telescopic pole allows you to clean more effectively and reach further.
The inline water feeding system saves approximately 70% more water compare to other ways of cleaning solar panels and also eliminates the need for separate water supply equipment.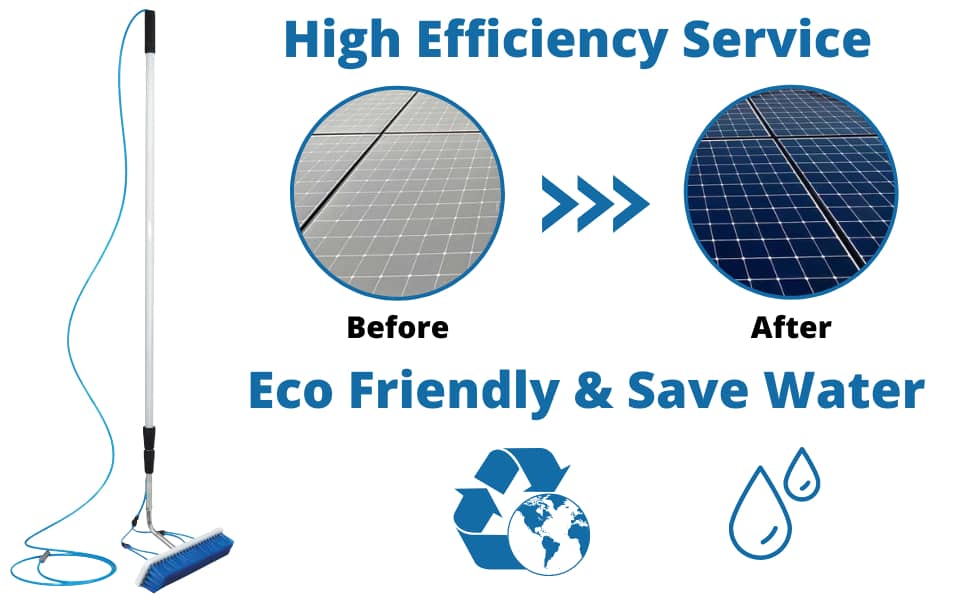 #4. Available in Different Sizes
Kenbrook solar panel cleaning kit comes in a variety of sizes i.e. 3M, 4M, 6M & 9M. You can easily reach longer distances and higher places with high quality aluminium extension poles. Just select the one that allows you to easily clean your solar panels.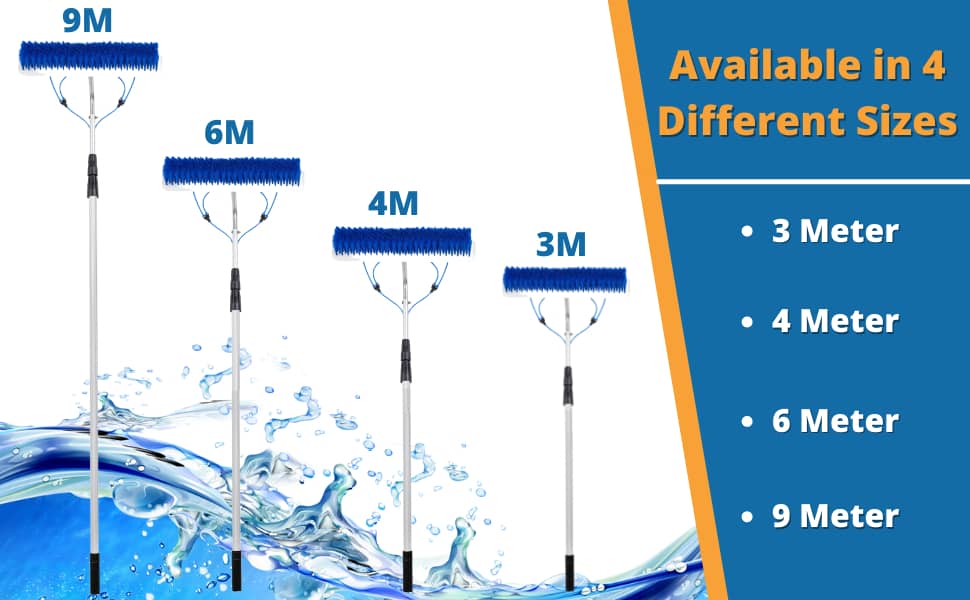 Please Note:
3M & 4M solar cleaning kit is recommended where solar panels are installed in a single row.
6M & 9M solar cleaning kit is recommended where solar panels are installed in double (one on one) row.