Description
Kenbrook 4 in 1 solar branch connectors are used to connect 4 solar panels in parallel. These solar connectors are specifically designed to keep the voltage of your panel configuration consistent. Our solar branch connectors are made of high-quality PPO+PA material, which ensures stable transmission.
These T4 solar connectors have a strong self-locking structure that can withstand heavy loads in harsh environments. They are waterproof and have IP67 protection. Also, they are heavier than comparable products on the market. Kenbrook T4 solar connectors are always sold in pairs, with one male (MMMMF) and one female (FFFFM) connector that can be used without fear of failure for an extended period of time.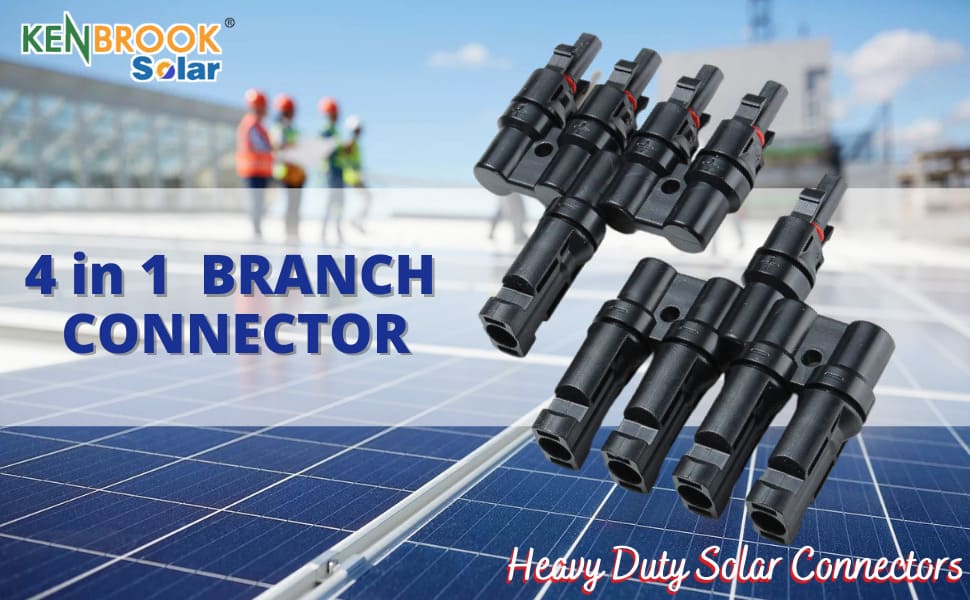 Technical Specifications of 4 in 1 Branch Connector
The detailed specifications of T4 connectors are listed below.
| | |
| --- | --- |
| Particular | Description |
| Product Name | 4 in 1 Solar Branch Connector |
| Brand | |
| Max. Rated Voltage | 1500V DC |
| Rated Current | Standrad MC4- 30A, 10MM MC4-50A |
| Contact Material |  Copper with Tin Plated |
| Insulation Material |  PPO + PA |
| Compatibility | All MC4 |
| Insertion & Withdrawal Force | ≤50N |
| Protection Degree | IP67 (Waterproof) |
| Flame Class |  UL94-V0 |
| Suitable For | Parallel Connection of 4 Solar Panels |
|  Temperature Range |  -40 ℃ ~ +125℃ |
Unique Features of Kenbrook Solar T4 Connector: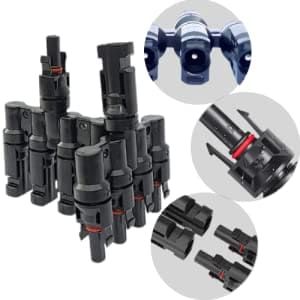 Made of anti-flame material

High-temperature resistance

Copper with Tin Plated Contact Material

Stable self-locking system

High-grade insulation

Waterproof & secure connection

High protection IP67 rating

Best, quick, and effortless connections

Comes in pairs (Male & Female)

25 to 30 years long estimated life
#1.

WATERPROOF IP67

These connectors are IP67 rated, which means they are dust and water-resistant. The waterproof ring on the connection prevents corrosion and is ideal for sealing water and dust outside. These solar connectors are extremely long-lasting and also protect against electric shock.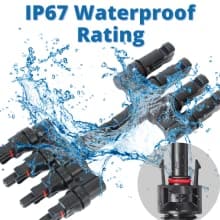 #2. HIGH BUILT QUALITY
Kenbrook solar connectors are made of a high-quality PPO+PA material that ensures they work reliably at temperatures ranging from -40 °C to +85 °C. This insulation with copper and tin plated contact material can withstand harsh weather conditions like heavy rain, snowstorms, and heat.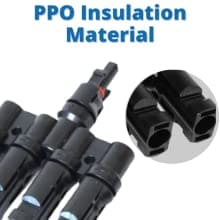 #3. SELF LOCKING FEATURE
Our connectors are designed with a strong and secure built-in lock, making them suitable for outdoor environments. For proper operation, this built-in lock with a self-locking mechanism keeps the male and female connectors tightly connected to each other. Easy & Quick to Plug and unplug.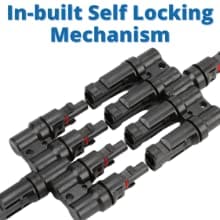 #4. COMPATIBILITY
Kenbrook solar 4 in 1 branch connectors are compatible with all brands and types of solar connectors. These are ideal for connecting 4 solar panels in parallel. Extreme weather will have no effect on the operation of these connectors. Furthermore, the installation process is simple, quick, and requires no special tools.