SOFAR is a leading China-based manufacturer of grid-tie (On-Grid) and hybrid solar inverters. It is known for providing its customers with reliable, efficient and professional solar energy solutions. The solutions include a wide range of high-end solar inverters including grid-tied and hybrid inverters. Its production line works with state-of-the-art technology.
The company is ISO 9001 & ISO 14001 certified. Its strong R&D team comprises more than 800 employees with personnel having experience of more than 10 years.

Sofar solar inverters are manufacture after testing and ensuring the quality of the material. The company focuses on increasing the production capacity of its solar inverters with modest technologies. These efforts and highly reliable commitments from the company make Sofar solar a top solar brand.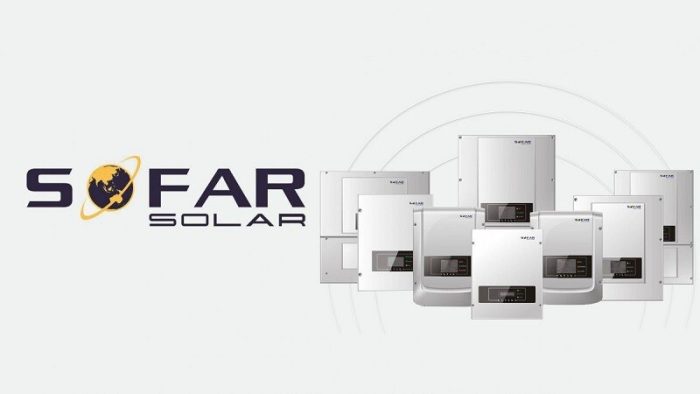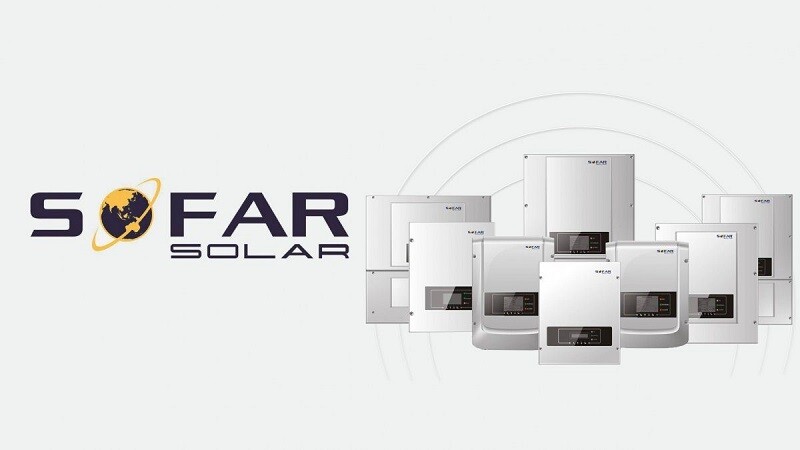 Sofar solar inverters are available in India with the detection accuracy of insulation resistance. They have grid resonance if multiple units are connected besides remote monitoring – WiFi as standard communication, anti-corrosion protection etc.
In this article, you will get complete information about the various types of solar inverters manufactured by Sofar solar. All the features, specifications and prices of each kind of inverter are mentioned to help you choose the best. Read the article thoroughly to make your decision precise.
#1. Sofar On Grid Solar Inverter
Sofar on-grid solar inverters are a great investment if the purpose is to reduce electricity bills by harnessing solar power along with electrical energy. These inverters allow you to run your electrical appliances on free solar energy and use the main grid when this energy from the sun is unavailable.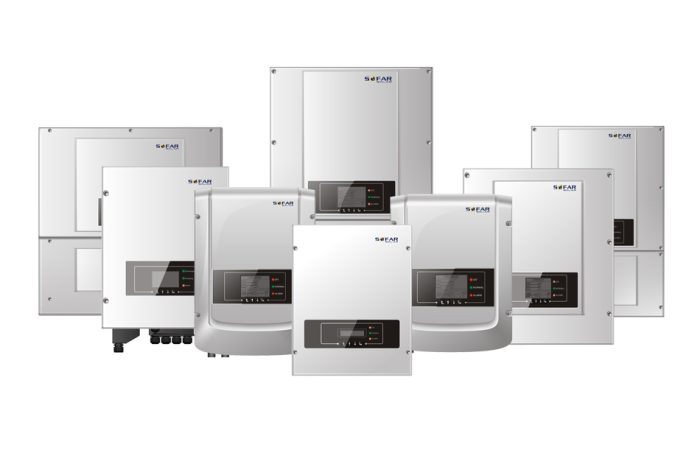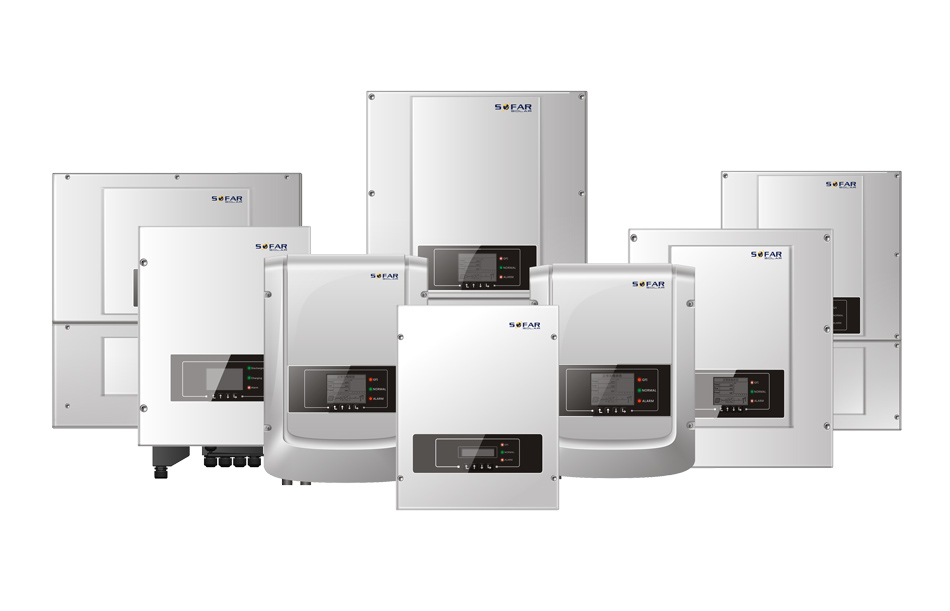 Coming to the efficiency of Sofar's commonly used models of solar inverters, the 5kW inverter with single-phase and three-phase equivalent variants are known to have an efficiency rate of 98%. These inverters work without the availability of a battery. They operate as long as they are connected to the utility grid. 
Sofar Solar manufactures a large variety of on-grid solar inverters. Residential inverters are ranging between 1kW and 7.5kW and commercial inverters from 10kW to 255kW. 
Sofar On-Grid Solar Inverter Price List
There is a huge list of solar on-grid inverters manufactured by the solid branded company of Sofar. All the models are highly specific in their respective fields and are equipped with various advanced features like LCD screens and monitoring software.
All you have to do before purchasing a solar inverter is to decide carefully upon the size, price and variant of the solar inverter.  To help you choose the best, we have listed the price of each Sofar on-grid solar inverter along with their sizes in the table below.
| | | |
| --- | --- | --- |
| Model | Type | Selling Price |
| 1.5KW 1600TL | 1 MPPT, 1-Phase | Rs. |
| 2KW 2200TL | 1 MPPT, 1-Phase | Rs. |
| 3KW 3000TL | 1 MPPT, 1-Phase | Rs. |
| 4KW 4000TL | 2 MPPT, 1-Phase | Rs. |
| 5KW 5000TL | 2 MPPT, 1-Phase | Rs. |
| 6KW 6000TL | 2 MPPT, 1-Phase | Rs. |
| 5.5KW 5.5KTL | 2 MPPT, 3-Phase | Rs. |
| 6.6KW 6.6KTL | 2 MPPT, 3-Phase | Rs. |
| 8.8KW 8.8KTL | 2 MPPT, 3-Phase | Rs. |
| 11KW 11KTL | 2 MPPT, 3-Phase | Rs. |
| 12KW 12KTL | 2 MPPT, 3-Phase | Rs. |
| 15KW 15000TL | 2 MPPT, 3-Phase | Rs.1,43,000 |
| 20KW 20000TL | 2 MPPT, 3-Phase | Rs.1,48,500 |
| 30KW 30000TL | 2 MPPT, 3-Phase | Rs.1,54,000 |
| 50KW 50000TL | 3 MPPT, 3-Phase | Rs.2,53,000 |
(Inclusive of all taxes) Prices can vary ± 10% to 12% depending on location, promotions and availability, and solar brand.
Prices are exclusive of Govt. Subsidy, as the subsidy on solar systems depends on your eligibility and types of solar system.
Residential Solar Inverter
For residential uses, Sofar Solar offers a huge variety of high-end solar inverters to choose from. There are single-phase to three-phase inverters. The company offers a solution to all: whether you want a 1.1kW inverter with a single MPPT or a 12kW inverter having two MPPTs.
Talking about the efficiency of these inverters, the on-grid solar inverters from Sofar solar meet the efficiency standards of residential inverters by having a maximum efficiency of 97.5%. The efficiency data is highly precise for the residential inverters falling in the G3 range.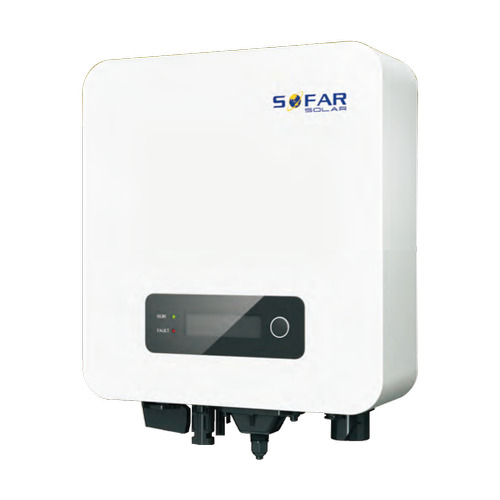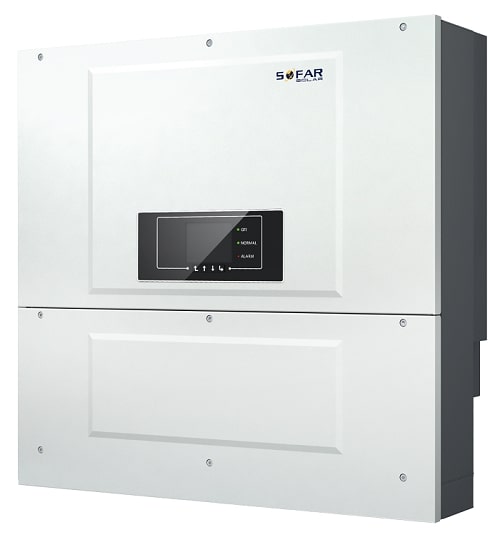 Commercial Solar Inverter
The commercial inverter series of Sofar solar inverters generally starts from 10kW and goes high up to 70kW. Though inverters with a capacity of up to 225kW are also available. For up to 40kW capacity inverters, 2 MPPTs are available while the higher capacity variants are equipped with 3 MPPT units. 
Besides being highly useful for residential purposes, the on-grid solar inverters from Sofar solar are appreciably popular in the commercial sector for their high-efficiency rates. For instance, the Sofar commercial solar inverter having 60kW capacity possesses an energy efficiency of up to 98.6%.
#2. Sofar Hybrid Solar Inverter
Sofar hybrid solar inverters are a great option for people who want a device that can handle the inputs from both the sources– solar panels and a battery; besides working with the utility grid. In other words, these inverters allow you to enjoy the benefits of an on-grid system by ensuring a constant electricity supply from the grid while having a solar battery.
The range of Sofar hybrid solar inverters varies from 3kW to 20kW. Hence, you can install these inverters conveniently for your residential setup as well as for small-sized commercial purposes.
The single model phase inverters of this category are capable of charging 42-58V batteries, whether lithium-ion or lead-acid. The maximum charging current the inverters can reach is 65A.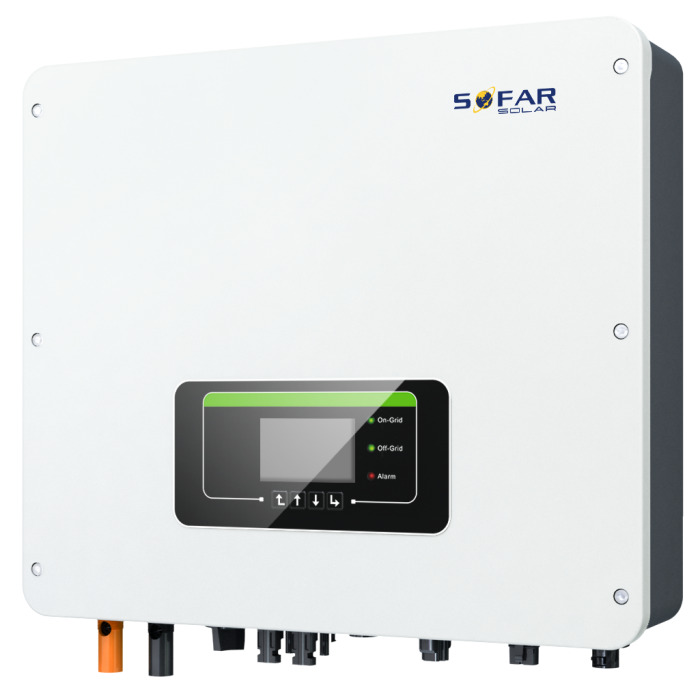 Sofar Hybrid Solar Inverter Price List 
Coming to the price range, the hybrid solar inverters are reasonably costlier than their alternatives as they provide you with multiple functionalities. Sofar solar offers a good range of hybrid inverters. The list of all the models along with their price ranges is listed below.
#3. Features of Sofar Solar Inverter

Sofar solar inverters are equipped with 25-Year data storage capability and standard WiFi communication including below features:
Max 97.2% inverter efficiency.

Real time precise MPPT algorithm.

Wide input voltage operation range

Flexible and economical system solution

Free site selection with IP65.

Easy installation "Plug & Play" connection

Interface selection-Wi-Fi / RS485 / GPRS

Built in zero export function (optional)

Low maintenance Inverters.

Detachable cover for easy installation

Rust-free aluminum covers

Flexible monitoring solution

Intelligent grid management

Reactive power capability

Self power reducer when over frequency

Remote active/reactive power limit control
#4. Benefits of Sofar Solar Inverter

A Sofar solar inverter comes equipped with several advanced and additional features that make the model stand out from the crowd. The benefits of choosing a solar inverter from Sofar solar over other brands are listed below.
#1. Trusted Brand: Sofar solar is among the top 3 inverter manufacturing companies in India and the top 5 in China. A reliable and well-known brand reduces the risk of getting a poor quality model.
#2. Quite Compatible: The inverters are highly compatible with all kinds of DC set-ups and solar systems, whether it is a single or dual string inverter.
#3. Highly Efficient: A solar inverter from Sofar is 95 to 98 percent efficient. This efficiency rate is quite high when compared to other alternatives available in the market.
#4. Feature-Packed: The inverters are versatile being equipped with functions like zero-export inbuilt and extensive protection along with advanced protocols for communication. It can operate and store the data for over 25 years.
#5. Multiple Warranty Offers: Sofar solar offers a warranty of 5.25 years on its inverters. Though, the company provides several options to the customers to extend the warranty duration. And hence, you can get an additional warranty for 5, 10, 15 or 20 years.
Frequently Asked Question
Sofar is a China based inverter manufacturing brand that has a Sofar Group to design inverters under the brand name of Sofar.
On-Grid solar inverters and Hybrid Solar inverters.
Inverters are the star product of the widely popular solar brand of Sofar. They are excellent in terms of energy efficiency which goes as high as 98%. This rate is significantly higher than other similar products available in the market.
Generally, solar inverters work well for 10-12 years from the day they are installed.
Yes, you can use it with any brand's solar panels.
For buying solar inverter of any brand, you can contact us.
Top Solar Brands in India