Description
The UTL 12V/24V 50A SMU (Solar Management Unit) transforms your existing inverter into a solar inverter. It is capable of charging a battery that has reached deep discharge.
The Solar Management Unit (SMU) from UTL is a highly reliable device with a long operational life. This SMU protects against overcharging voltage, overcharging current, under voltage, battery reverse polarity, solar reverse polarity, reverse current flow (from battery to solar array), and overheating.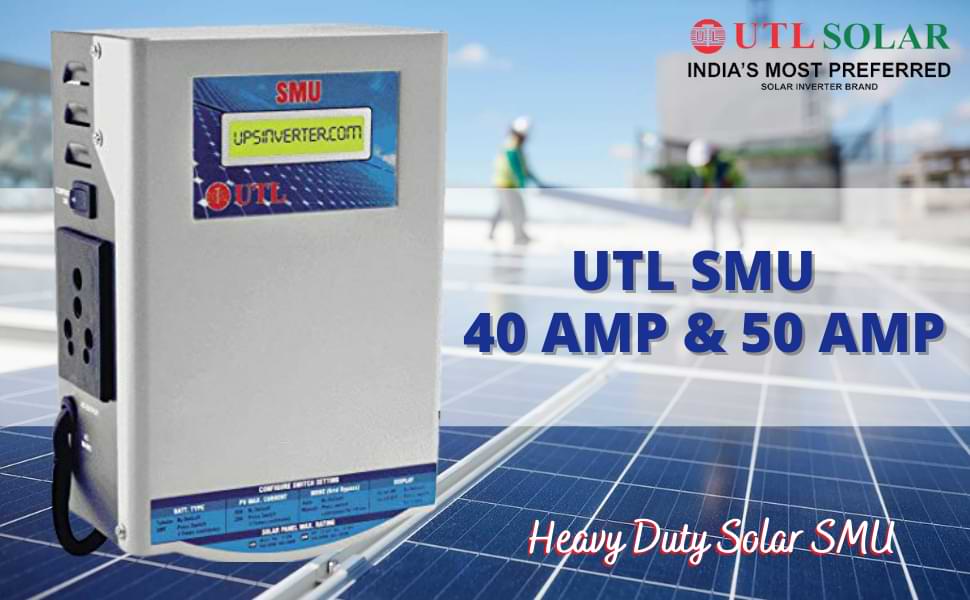 Useful Tips:
Read the manual or instructions before installing the SMU.

Installation and wiring must be done carefully by a qualified person.

Avoid touching the connections while the SMU is in operational mode.

Do not install the SMU on flammable construction materials.

To avoid short circuits and overheating, ensure that the wires are tightly connected.
Technical Specifications of 50A UTL SMU
The accessories and detailed specifications of 50 amp solar management unit are listed below.
| | |
| --- | --- |
| Particular | Description |
| Model | UTL 50AMP SMU |
| System Operating Voltage | 12V/24V DC (12V Solar Panel With 12V Battery & 24V Solar Panel With 24V Battery) |
| Solar Modules Size (Max.) | 12V, 50A: Upto 750W | 24V, 50A: Upto 1500W |
| Max Solar Current | 50A |
| Nominal Grid Voltage | 230V AC |
| Battery Charging Regulation | 4 stage PWM (Bulk/Absorption/Float/Equalize) |
| Display Parameters | Batt. Voltage, Batt. Current, Batt. Type, Solar Voltage, Solar Current, Mode Selection, Saving: kWh, Mains Present, Low, high, absent, Max. PV Current |
| Protections | Batt. Reverse Polarity, Batt. Reverse Current, Over Current of SPV, Solar High Voltage, SPV Reserve Polarity, Load Short Circuit through AC Fuse, Solar Low Voltage, Over Temperature |
| Operating Temperature | 0°C to 50°C |
| Fixing | Wall Mounted |
#1. High Speed Micro-Controller + Solar Prioritization
Equipped with high-speed and high-performance microcontroller. This latest technology microcontroller will improve the system's efficiency. The compact design and wall mounting structure make it better compared to similar available alternatives in the market.
This SMU prioritizes solar power over grid power. It only uses grid power when solar power is insufficient to meet all of your energy needs.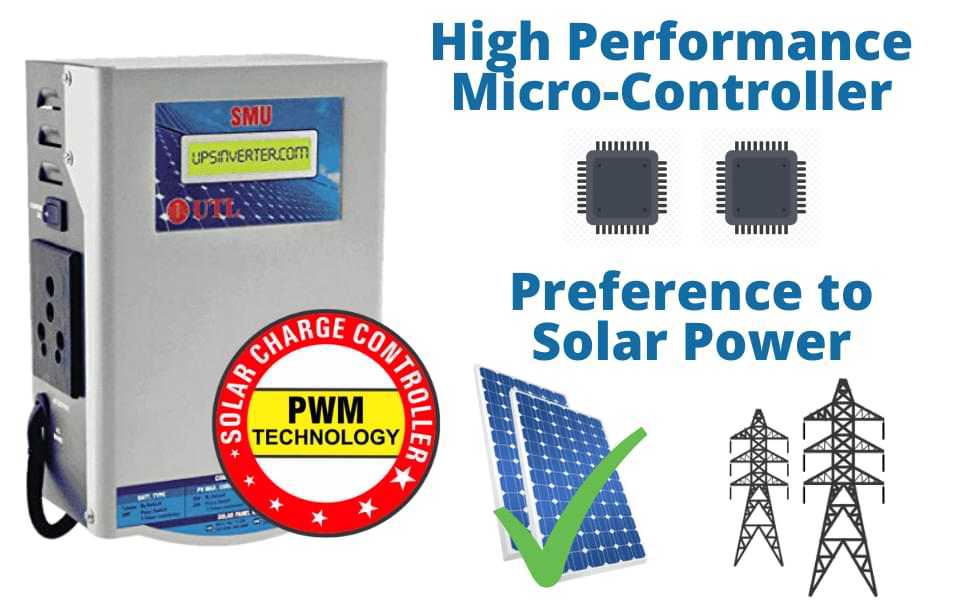 NOTE: The three-pin plug slot on the side is only for grid bypass. Don't use it for AC power output connections.
#2. Digital Display
UTL 12V/24V 50A SMU comes with an LCD display for easy monitoring of dynamic data/figures and operating status.
It displays the data in digital format. Now you can see, compare and analyze your savings in Rs. and Units.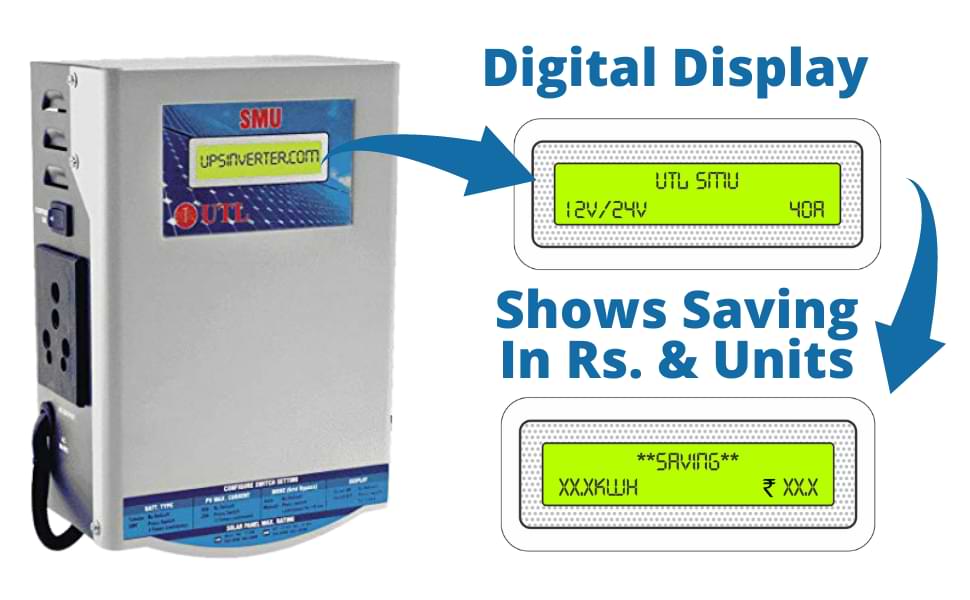 #3. Single/Double Auto Battery Selection
The SMU has an automatic voltage selection feature and can therefore work with either one or two solar batteries. It automatically detects 12V and 24V panels and adjusts its performance accordingly.
It prevents your battery from being overcharged and deep discharged. This PWM technology-based Solar Management Unit utilizes four stages charging algorithm to extend battery life.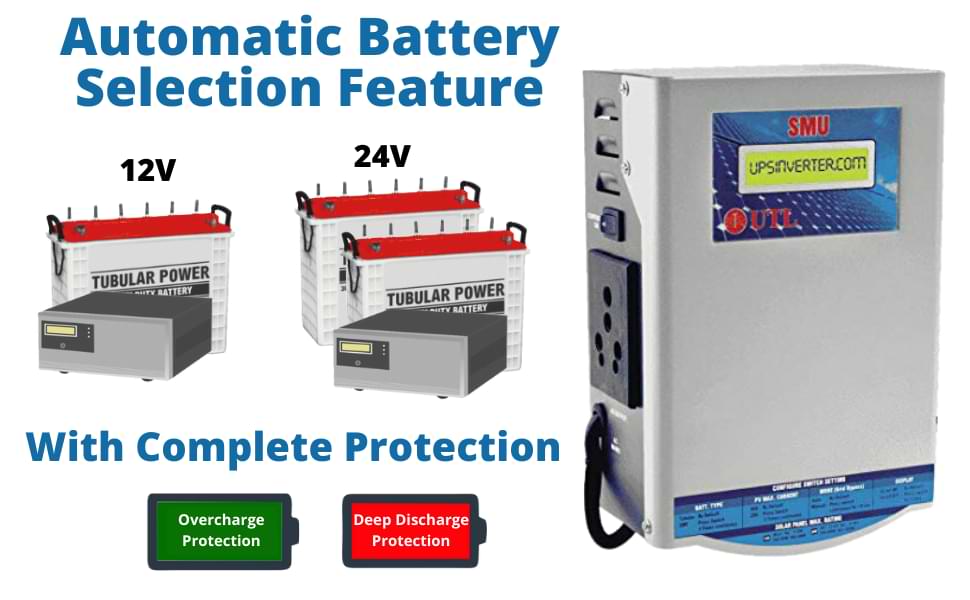 #4. Support 12V & 24V Solar Panels
This SMU can work with both 12V and 24V solar panels. But it requires 12V panels to operate on a single 12V inverter battery and 24V panels to operate on two 12V (total 24V) inverter batteries.
Odd/Unusual combinations like 12V panels with two inverter batteries or 24V panels with a single 12V inverter battery will not work.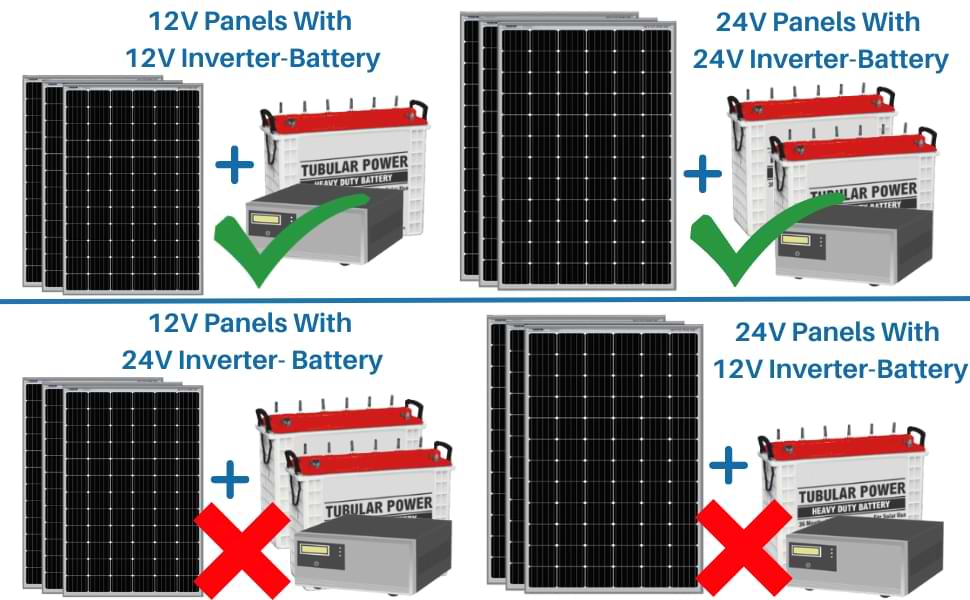 The three-pin plug slot on the side is only for grid-to-inverter bypass. It will bypass the grid electricity when solar power is unavailable. So don't get confused and don't use this point for AC power output connections.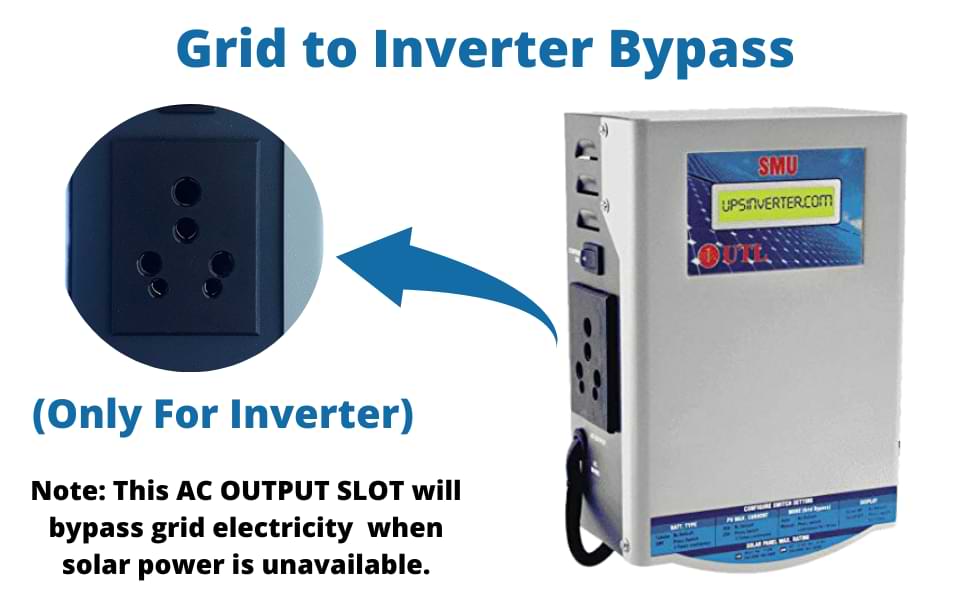 PLEASE NOTE: This product is not a solar inverter. It is a solar management unit/solar charge controller that is used with an existing inverter battery.