Description
【About 】Full form of SMU is Solar Management Unit. SMU is also knows as Solar Charge Controller that is the India's unique electronic solar device that converts your simple Inverter into Solar Inverter. SMU is also Knows as Solar Charge Controller.
【Working】 With this, you can run your home or office load in old inverter with solar panels. This turns your inverter into a solar inverter.
【Load Running Priority】 SMU always give first priority to solar power to run connected load. If sunlight is full then UTL SMU charges the battery with solar panels on first priority, when battery is full charged then runs the load from solar. In evening time your system automatically run load to government electricity.
【High Speed Performance】   UTL's solar management unit (SMU) is embedding with a high speed microcontroller which increases the performance of the solar panel system. Solar charge controller provides ability to perform its task more reliably and efficiently.
【Battery Support】 The best part of SMU is it can run on one inverter with one battery or two batteries. SMU will charge the battery up to 15V once a month for good battery life.
【Design】 Compact design with wall mounting and due to its compact size and lightness, the SMU can be installed in less space.
【PWM】 PWM is solar charger technology. It has In-Built PWM Charger and due to direct connection of SMU to electricity, more and more solar is used. PWM Solar Charge Controller keeps the efficiency of solar panels and life of solar battery longer.
【Battery Life】   SMU utilizes four stage battery charging algorithm that enhances the battery lifespan. SMU feeds the battery installed to it a constant boost charging current until its voltage reaches 14.4V and the float current, and then in absorption stage it maintains this voltage above 14.2V for 3 hrs. SMU has the ability to charge a solar battery which goes in deep discharge condition. It has automatic battery selection option.
UTL 12V/24V 40A Solar Management Unit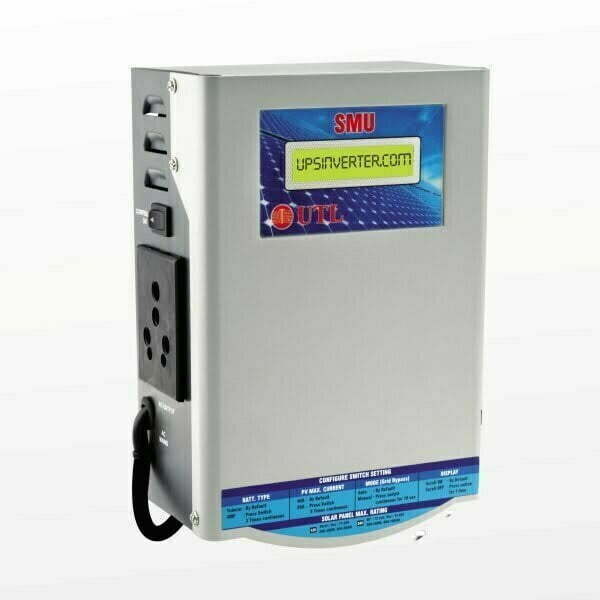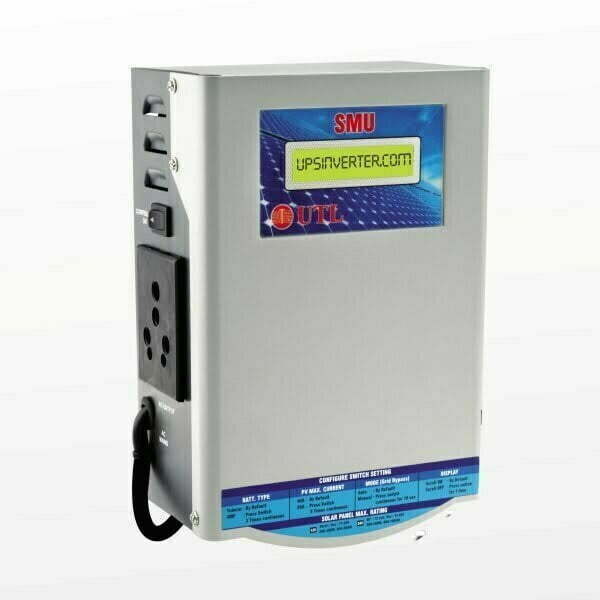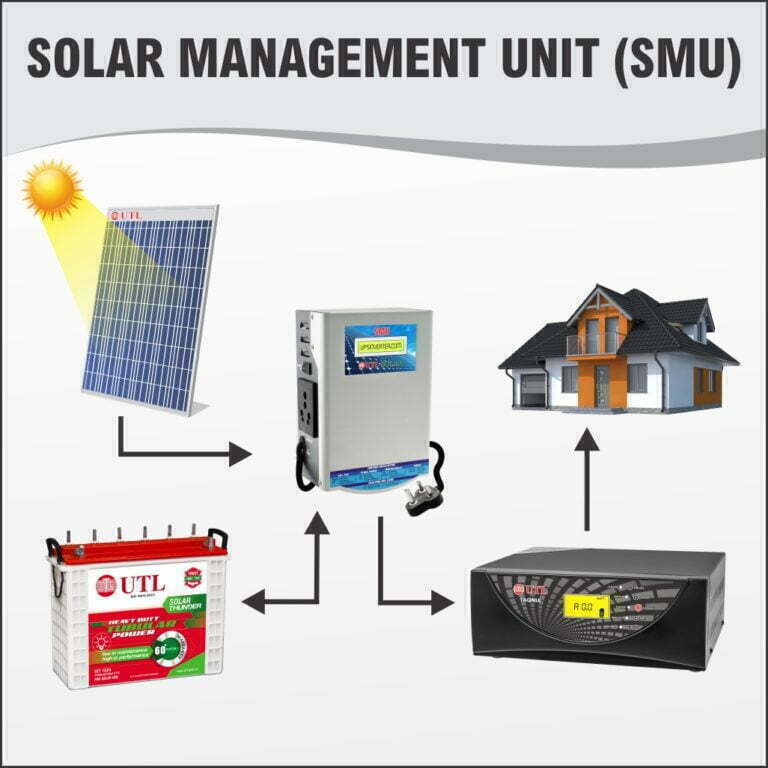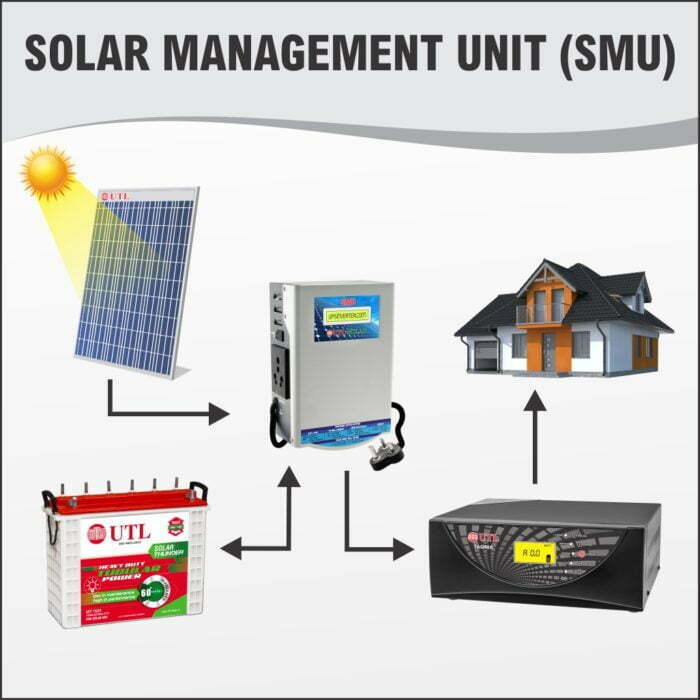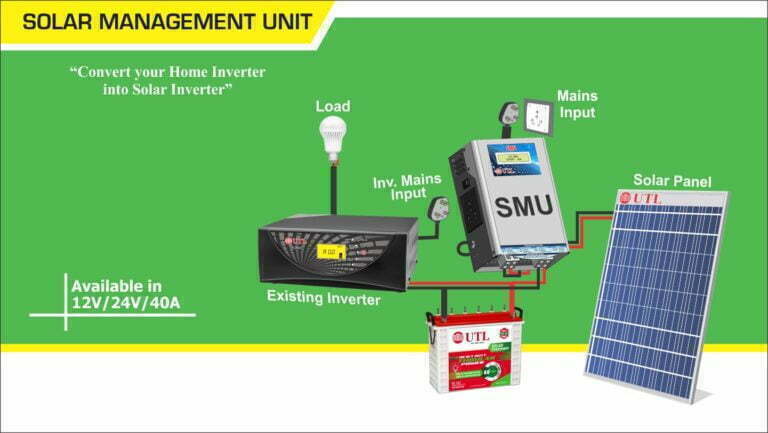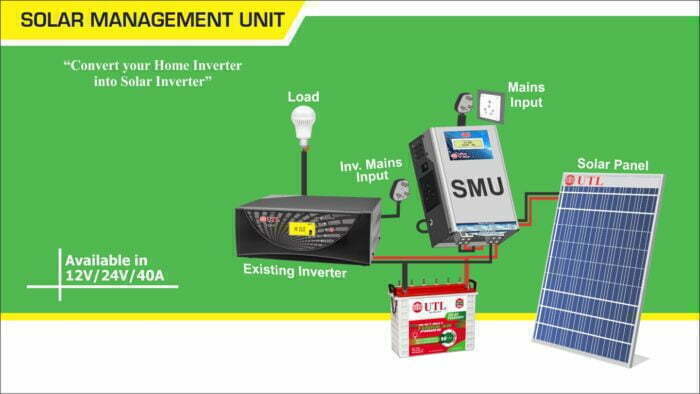 Special Features
Battery & Solar reverse polarity protection
First Priority Solar Power
Display All Parameter
Prevents system failure
Increase the battery lifetime
Shows Saving In Rs. & Units
Transient and Surge Protection
Best Charging in Any Season
SMU Battery Gravity Maintained
Compact design with wall mounting
Digital Display for Easy Monitoring
View your savings in digital format
Prevention from under & Overcharging
Inbuilt PWM Technology Charge Controller
Automatic voltage selection for 12V or 24V
High reliability with longer operational life
High Speed and High Performance micro-controller
Inbuilt protection to avoid battery undercharge and over-charge
Technical Details
| | |
| --- | --- |
| Particulars | Description |
| Operating Temperature | 0°C to 50°C |
| Storage Temperature | -20° C to 60°C |
| Battery Support | Tubular/SMF, Battery 12V/24V |
| Battery Capacity | 100AH – 180AH |
| Nominal System Voltage | 12/24 VDC |
| Charging Current (Solar) | 20A-40A |
| Charge Controller Efficiency | >95% |
| Idle Consumption | <20mA |
| Operating Solar Input Voltage (VOC) | 22.5V/45V |
| Max. Solar Input Voltage (VOC) | 25A/45V |
| Min Solar Input Voltage (VOC) | 15V/30V ± 2% |
| Solar Panel Recovery Voltage | 17V/31V ± 2% |
| Absorption voltage Tubular Battery | 14.2V/28.4V±2% |
| Absorption voltage SMF Battery | 13.7V/27.4V±2% |
| Float Voltage Tubular Battery | 14V/28±2% |
| Float Voltage SMF Battery | 13.7V/27.0V±2% |
| Bulk Voltage Tubular Battery | 14.6V/29.2V±2% |