Description
【Basic Detail】 UTL Solar is the manufacturer of Gamma+ Solar Inverter. This is best Off grid Inverter Inbuilt MPPT solar charge controller that supports up to 1000 watts of solar panel, it supports both 12 volt and 24 volt solar panel.
【MPPT】MPPT (Maximum power point tracker) based solar charger extracts the maximum power from the solar panels whereby it increases the efficiency of the system. MPPT charger has multistage charging which maintains the battery charging voltage and also increases the lifespan of battery. MPPT technology produces up to 30% more electricity as compared to PWM charge controller.
【Protection】 Gamma 1KVA 12V Solar Inverter has lots of protections like Overload protection, Battery Low, Battery High, Output short Cut, Battery Reverse, Phase Reverse, Over Heat, over frequency, under frequency, SPV High, SPV low etc.
【Display】 Gamma inverter has LED display that shows all parameter like Battery Voltage, Charging Voltage, Charging Current, Grid Voltage, Grid Frequency, Output Voltage, Output Frequency, Load %, Battery graph, Overheat, SPV Current and SPV Voltage etc.
【Switches】 In this these switch are available: Reset for System, ON & OFF, UP, Down, Back, Enter.
【Solar Panel Capacity】 You can connect up to 1000 watt solar panels.
【LED Indication】 This inverter has LED indications like System ON / OFF and also creates a Beep Sound when Enable and Disable of IT mode, SMF/TUB, Boost Charging, DG mode, Grid Charging etc.
【Priority】 It gives First priority for running connected load to Solar Panel System and second priority gives to the batteries. UTL's Gamma+ run your load on solar panel and stores the balance electricity in solar batteries.
【Service & Warranty】 UTL Solar provides all India on site service to their customer that makes customer happy. This product is has 2 year onsite warranty in all India.
1kVA 12V UTL Gamma+ Solar Inverter
Original picture of 1kVA 12V UTL Gamma+ rMPPT Solar Inverter.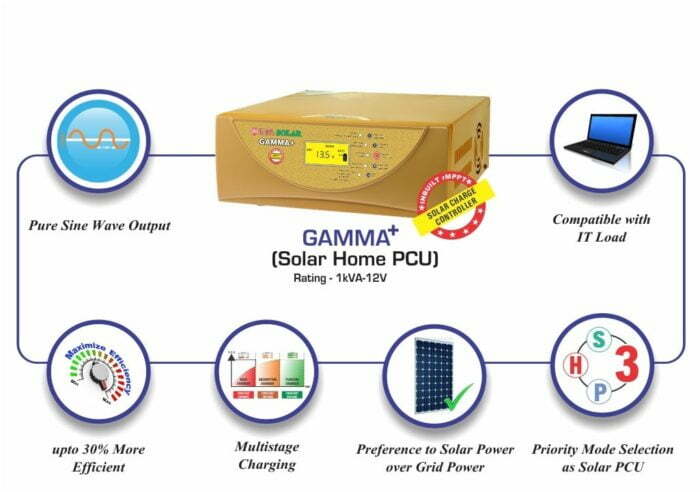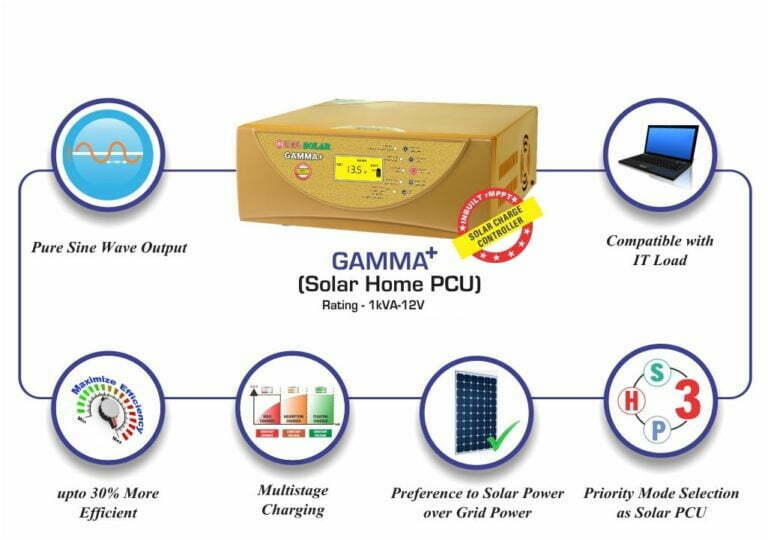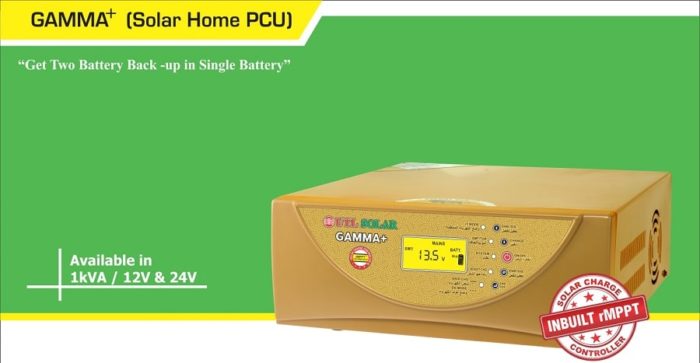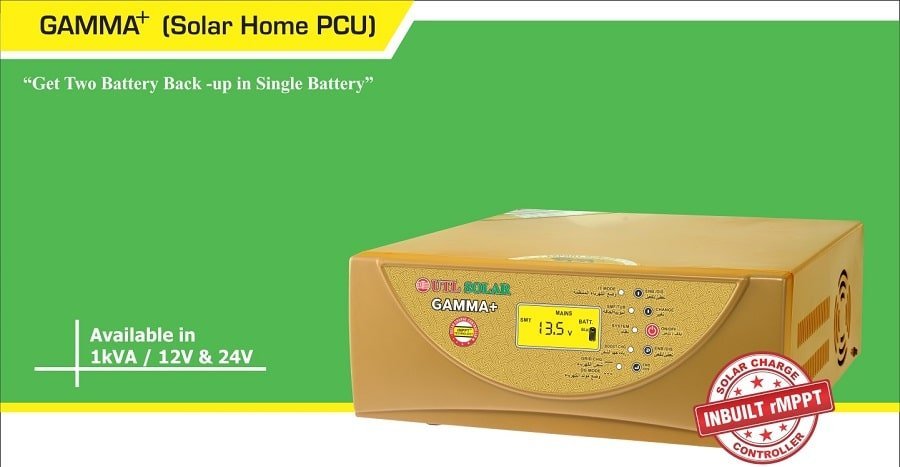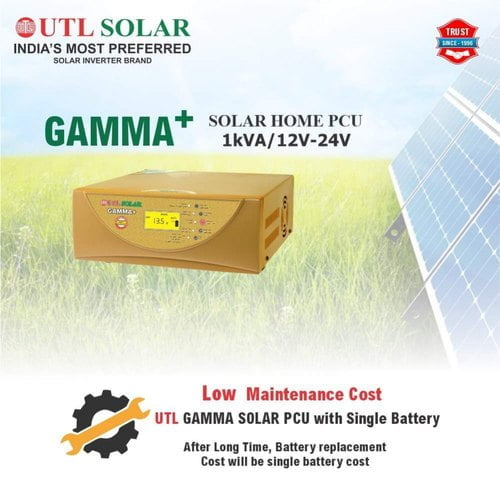 Technical Specification
| | |
| --- | --- |
| Particular | Descriptions |
| Capacity | 1 kVA 12V |
| Model | Gamma+ 1000VA 12V DC |
| Inbuilt charge controller | MPPT |
| Solar Panel Voltage Range | 15V-45V |
| Solar panel support | 1000 watt |
| Grid-Battery Charging Current | 3A – 15A |
| Solar Charger Rating | 40A |
| Nominal Grid Voltage | 230V |
| Max. PV voltage | 45 volt |
| Battery Support | 1 Battery 12 Volt |
| Battery Types Support | SMF, Gel & Tubular |
| Technology | Pure Sine Wave |
| Frequency | 50 to 60Hz |
| Priority | Selection – PCU, Smart & Hybrid for Saving Energy and Money |
| | |
 Special Features
System Rating 1000VA
Operating DC Voltage 12V & 24V
Pure Sine Wave Solar Technology
2 Cooling Fan
Output Phase 1Phase
Compatible with IT Load
Multi-Colour LCD Display
Output Waveform Sine wave
In-built MPPT Solar Charger Controller
Maximum Load Run Capacity 750W-800W
Multi Charging Stage (Bulk, Absorption & Float)
Compatible with SMF, Gel & Tubular Batteries
Maximum Solar Panel Recommended 1000W