Description
UTL's 3kVA 24Volt rMPPT-based Gamma+ solar inverter is an integrated all-in-one solar solution, consists of grid charger, inverter, MPPT Solar Charger. It provides an uninterrupted power supply and gives preference to solar power over grid power.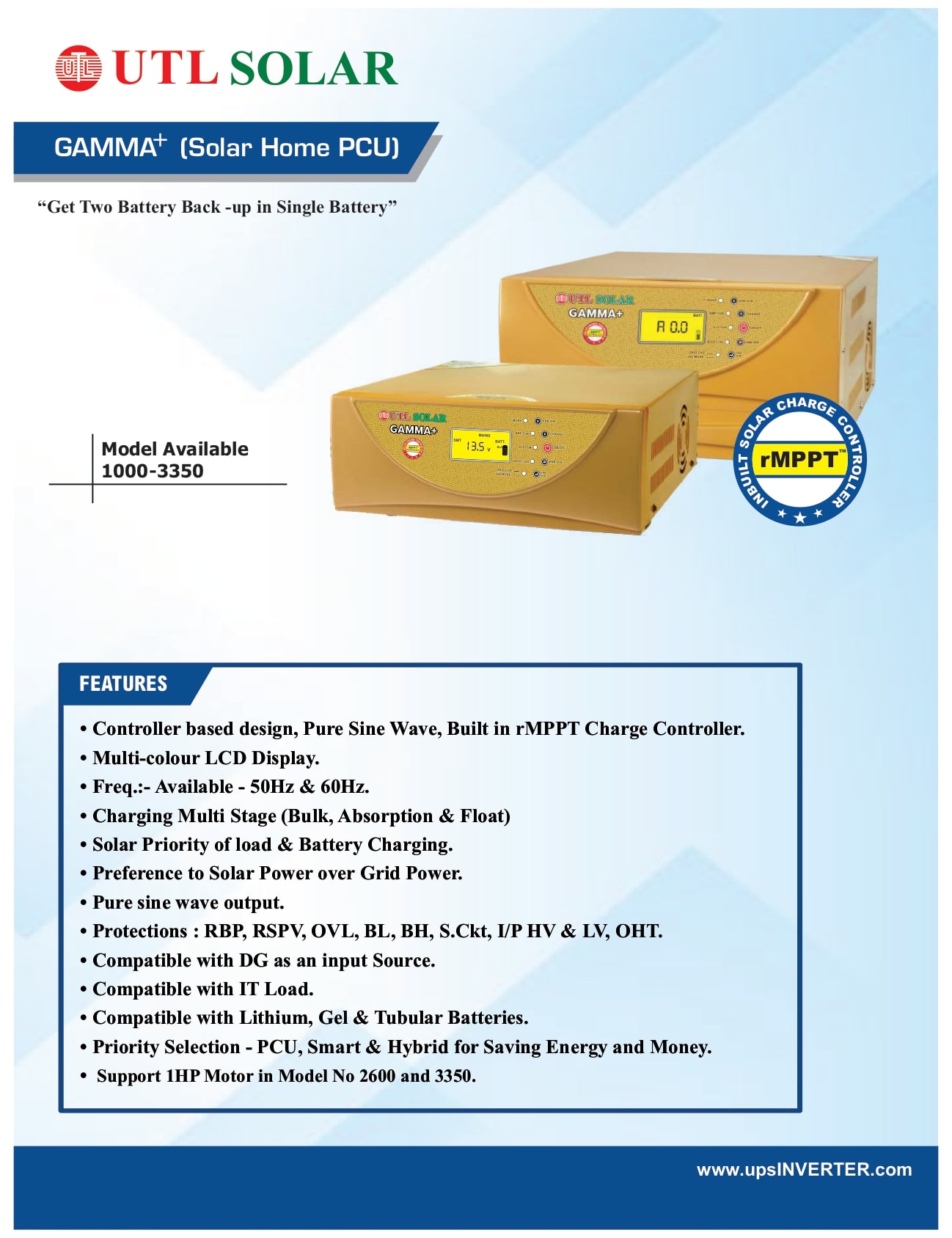 The inverter comes with 3 priority selection modes– PCU, Smart (Default) & Hybrid. The priority in various modes will be:
Smart Mode

 (Default) – Priority Solar → Grid → Battery

PCU Mode

 – Priority Solar → 50% Battery → Grid

Hybrid Mode

 – Priority for load Grid →Solar →Battery
Useful Tips:
Before installing the inverter, read all of the instructions and warning labels on the unit.

For optimum operation of this Gamma+ solar inverter, please select the appropriate cable size.

Installation and wiring must be done carefully by a qualified person.

Avoid touching the connections while the inverter is in operational mode.

Do not install the inverter on flammable construction materials.

Make sure that the wires are tightly connected to avoid short circuits and overheating.

Before making final connections, ensure that the positive (+) is connected to the positive (+) and the negative (-) is connected to the negative (-).
Technical Specifications of 3kVA 24V Gamma+ Solar Inverter
The accessories and detailed specifications of 3kVA 24V Gamma plus solar inverter are listed below.
| | |
| --- | --- |
| Particular | Description |
| Model | 3kVA/24V Gamma+ Solar Inverter |
| Operating DC Voltage | 24V |
| Nominal Output Voltage | 220V |
| Nominal Frequency | 50Hz ± 1% |
| Max. Output Current | 9A |
| Output Waveform | Sinewave |
| Efficiency | >94% |
| Battery Charging Method | 3 Stages (Bulk/ Absorption/Float) |
| Switches | Reset for system ON/OFF, UP, Down, Back, and Enter (For LCD Calibration) |
| Maximum PV Power Recommended | 315/320/325W*6 or 390/425*5 (Parallel) (Total 2000W) |
| Switching Element | Mosfet |
| LED Indication | System ON, (IT Mode, SMF/Tub, Boost Chg, DG Mode, Grid Chg) Enable/Disable |
| Protections | Overload, Battery Low/High, Output Short Ckt, Battery Reverse (Fuse Blown), Over Heat @90°C ± 10°C , Over/Under Frequency, I/P HV, I/P LV, SPV High, SPV Low |
| Operating Temperature | 0°C -50°C |
#1. rMPPT Based Technology
Equipped with advanced MPPT technology-based solar charge controller. This in-built MPPT charge controller extracts the maximum power from the solar panels, increasing the system's efficiency.
It provides high-frequency pure sine wave output. This Gamma Plus solar inverter is 30% more energy efficient than other available alternatives in the market.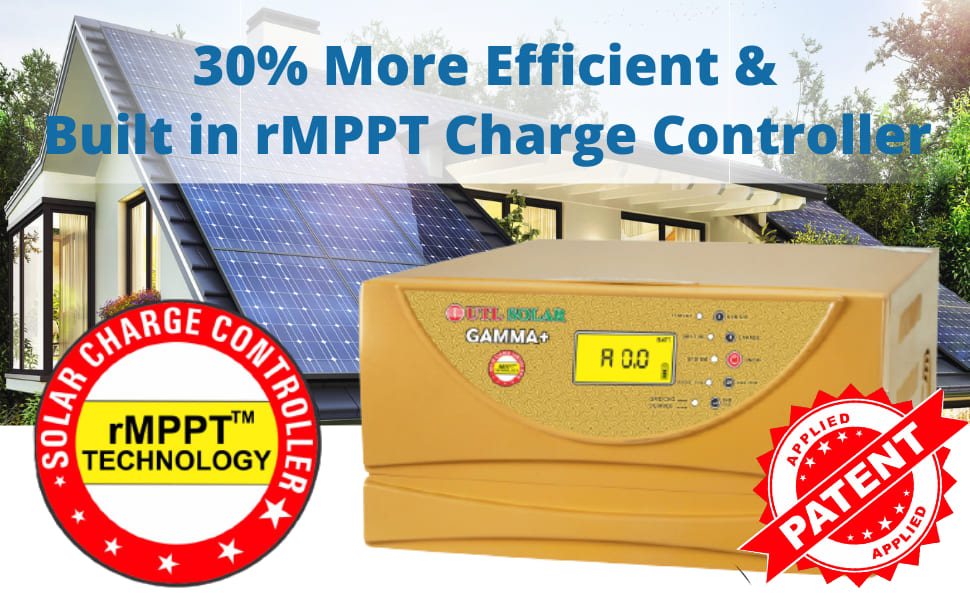 #2. Power Packed Solar Inverter
Comes with four switches for configuring operations – grid charger, IT Load, SMF/TUB, boost charging, and mode selection.
The DG enable mode allows any of the frequencies to be used as the input source frequency and IT enable mode minimizes the change over time, ensuring that there is no breakdown in the power supply.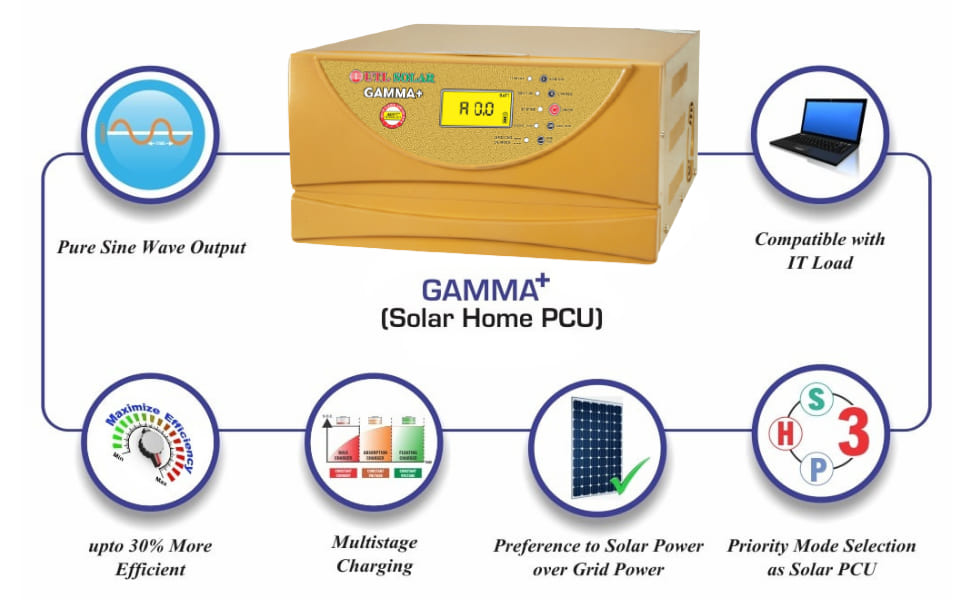 #3. Multi Colour LCD Display
Multi-colour LCD display and LED indicators for a dynamic display of system data and operating status.
Controller-based design with complete protections including short circuit protection, over-voltage and under-voltage protection, overload protection, reverse protection, etc.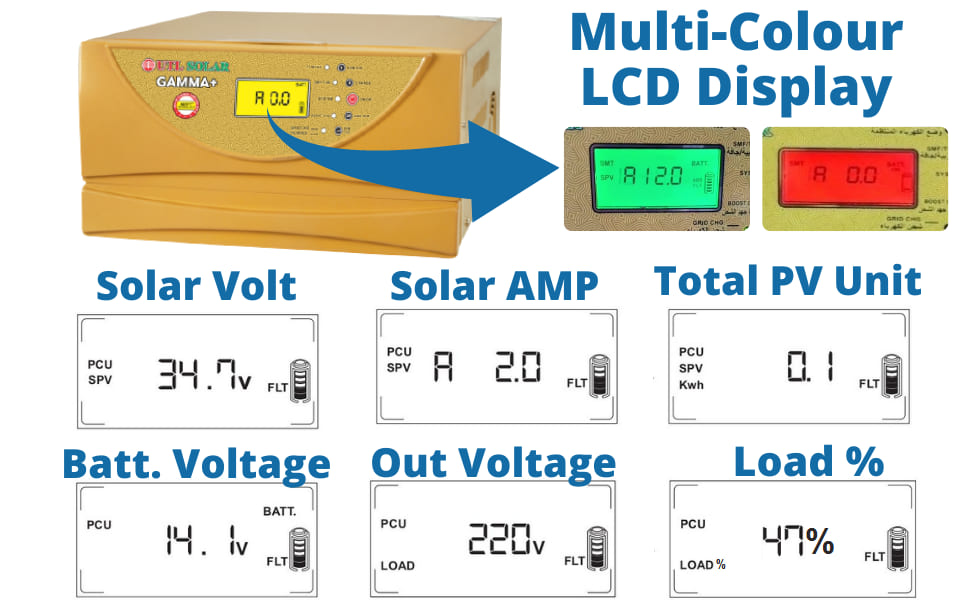 All the electrical parameters, such as battery charging voltage, battery high cut, battery low cut, and battery charging current, can be adjusted manually by the user based on their preferences or needs.