Description
1kW Hybrid Solar System
In 1kW UTL Combo Hybrid Solar System (solar battery bank with government electricity) has both the functions of on grid system and off grid system. 1kW UTL Combo Hybrid Solar System are well designed with latest technology and fully customization.
This type of solar system mainly used where customer's regular electricity consumption is high and long power cuts are a major problem that you are facing off then our best quality 1kW solar system is an amazing alternative to lower your power bills and protect you from power outages.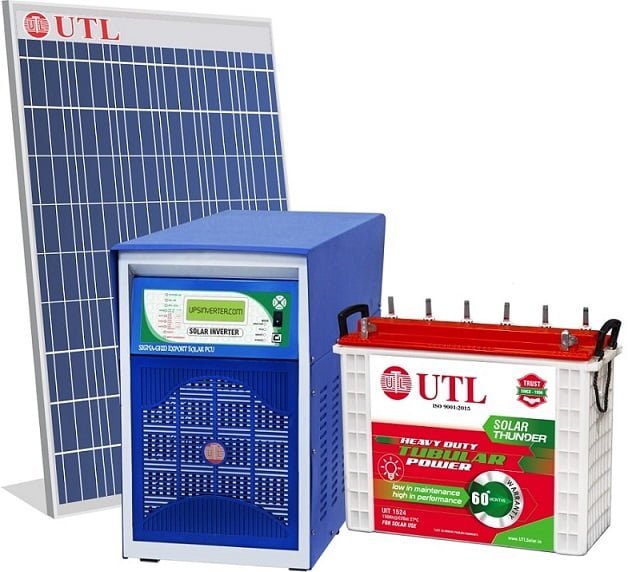 Hybrid solar system (solar battery storage with grid connection) has both the functions of on grid solar system and off grid solar system in it. Or we can say that it has three sources to run load (solar energy, solar battery and government electricity). 1kW UTL Combo Hybrid Solar System stay connected with batteries as well as govt. grid. Hybrid solar system is recommended for those peoples, who are facing the problem of electricity cuts and also want to export the extra electricity to grid.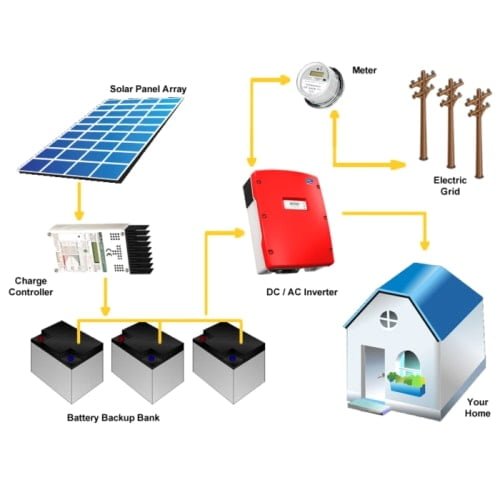 Specification of UTL 1kW Hybrid Solar System
[maxbutton id="19″ ]
Warranty: 5 years for complete system and 25 years for solar panel.
Average generation: 4 units per day
Delivery and Installation: Delivery within 3 days from date of order & installation within 3 days from the date of delivery.
Govt. Subsidy: Yes, 30% govt. subsidy on benchmark cost will be direct to customer
Solar Net-Metering: Yes, solar net metering is applicable on this system.
Recommended load on 1kW Hybrid solar system
| | | |
| --- | --- | --- |
| 4 LEDs + 4 Fan + 1 TV | 800 watt | 3 Hours |
| 4 LEDs + 3 Fan + Fridge | 800 watt | 3 Hours |
| 4 LEDs + 2 Fan + 1 TV | 500 watt | 5 Hours |
@import url(https://kenbrooksolar.com/wp-content/plugins/siteorigin-panels/css/front-flex.min.css); #pgc-12102-0-0 , #pgc-12102-1-0 { width:100%;width:calc(100% – ( 0 * 30px ) ) } #pg-12102-0 , #pl-12102 .so-panel { margin-bottom:30px } #pl-12102 .so-panel:last-of-type { margin-bottom:0px } @media (max-width:780px){ #pg-12102-0.panel-no-style, #pg-12102-0.panel-has-style > .panel-row-style , #pg-12102-1.panel-no-style, #pg-12102-1.panel-has-style > .panel-row-style { -webkit-flex-direction:column;-ms-flex-direction:column;flex-direction:column } #pg-12102-0 > .panel-grid-cell , #pg-12102-0 > .panel-row-style > .panel-grid-cell , #pg-12102-1 > .panel-grid-cell , #pg-12102-1 > .panel-row-style > .panel-grid-cell { width:100%;margin-right:0 } #pg-12102-0 , #pg-12102-1 { margin-bottom:px } #pl-12102 .panel-grid-cell { padding:0 } #pl-12102 .panel-grid .panel-grid-cell-empty { display:none } #pl-12102 .panel-grid .panel-grid-cell-mobile-last { margin-bottom:0px } }