Solar panel mounting accessories are the necessary parts of a solar panel structure. These are small solar accessories that include solar base plate, solar degree angles, end Z clamp, middle U clamp, spring nut-bolts and many other things.
Nowadays, solar panels are installed more and more often on roofs of buildings. Solar mounting accessories will hold and fix the solar panels in position so that they can be properly installed on the roof or other surfaces.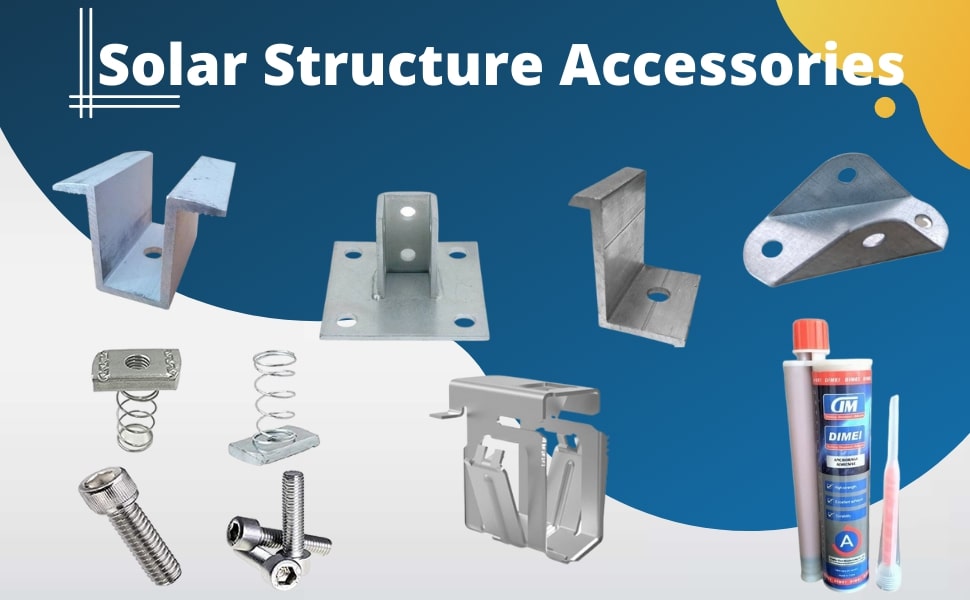 Solar panel mounting accessories are usually made from steel or aluminum and are helpful to mount the solar panels at different angles, depending on the circumstances and place of installation. They also make it easier to install solar panels without damaging the installation place.
#1. Mounting Accessories Price List

There are a variety of solar panel mounting accessories and their prices vary according to their type. We are providing the best possible prices for all solar mounting accessories below.
Mounting Accessories
Selling Price
Buy Now

Solar Base Plate

(41x41mm)

Rs. 120 /Pc

Solar Base Plate

(80x40mm)

Rs. 130 /Pc

Solar Degree Angle

(41x41mm)

Rs. 50 /Pc

Solar Degree Angle

(81x41mm)

Rs. 57 /Pc

End Z Clamp

(60×35 /40mm)

Rs. 43 /Set

Middle U Clamp (60mm)

Rs. 44 /Set

Power Snap – Anti Theft Lock

(For 80×40 C Channel)

Rs. 50 /Pc

Power Snap – Anti Theft Lock

(For 40×40 C Channel)

Rs. 34 /Pc

SS Allen Bolt Solar Structure

Rs. 10 /Pc

Spring Nut Solar Structure

Rs. 10 /Pc

Chemical Bottle with Nozzle

Rs. 780 /Pc

Chemical Gun

Rs. 850 /Pc

Stud/Bolt with Nut

Rs. 25 /Set
(Inclusive of all taxes) Prices can vary ± 3% to 5% depending on location, promotions and availability, and solar brand.

Check our

Online Solar Shop

or

Amazon Store

for the latest price and stock availability.
The solar base plate provides foundation to a solar panel structure and is installed on a roof, ground or other surface. It supports the solar panels structure and other solar components.
Kenbrook Solar is providing hot dip GI base plates in two different sizes and affordable prices:
41x41mm Base Plate
80x40mm Base Plate
These base plates for solar are sturdy and strong enough to hold the weight of the solar panels and provide structural stability to the entire installation.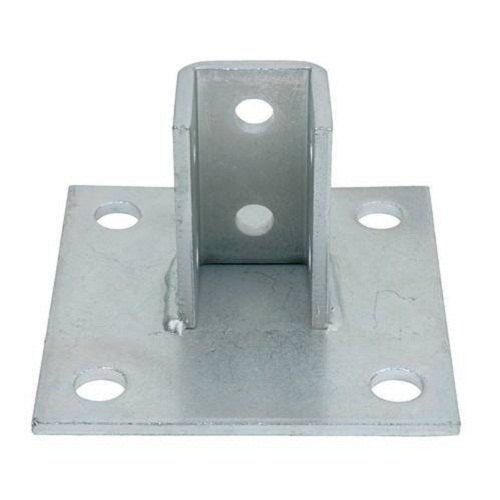 A solar degree clamp is an angle-adjusting mechanism that ensures the solar panels are installed at the right angle.
The degree clamp is an important element of solar structures because it allows for the adjustment of the solar panel angle at which maximum sunlight hits the panel. This adjustment can be done by turning knobs to move panels in response to changes in sunlight over time.
We are providing solar degree clamps in two different sizes. You can choose the suitable size as per the site requirement.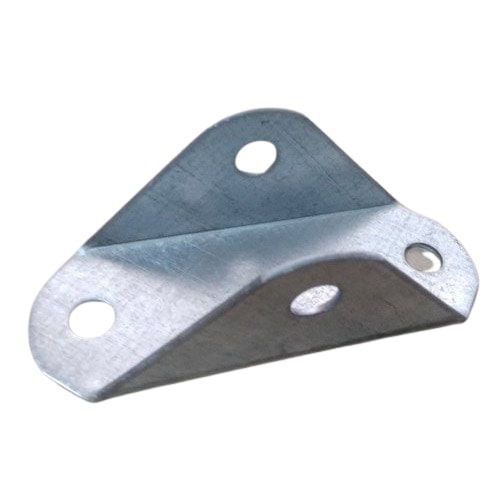 The solar end clamp is a Z-shaped metallic tool that is used to attach the solar panel to the solar structure. These clamps are used to hold the solar panel in place by tightening them down from the edges.
The Z-shaped design of this clamp ensures proper grip and no gaps between the solar panel and the mounting structure.
Solar end clamps by Kenbrook Solar are made of aluminum and strong enough to withstand high winds and heat. This clamp can be installed easily and it is durable too. The best part about this clamp is that it can be reused whenever needed.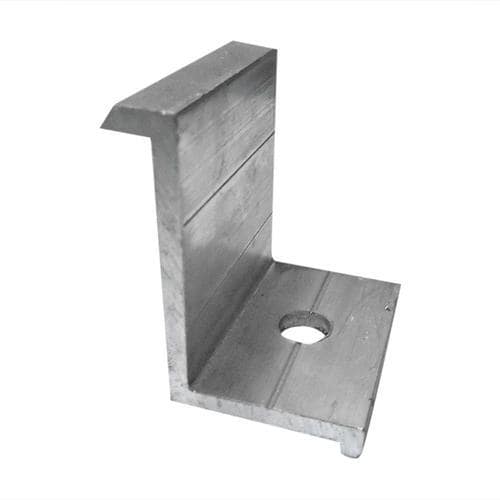 The middle U clamp is a U shaped clamp that is located in the middle of the mounting rail and is used to hold two solar panels in place simultaneously. These clamps are usually used in pairs on the rail of the solar panel frame.
The purpose of these clamps is to prevent the panels from sliding down or away from each other, which would cause them to be unstable or fall off their mounts. which would cause them to be unstable or fall off their mounts. Middle U clamps also  provide stability and support to a solar panel structure whether it is small or large.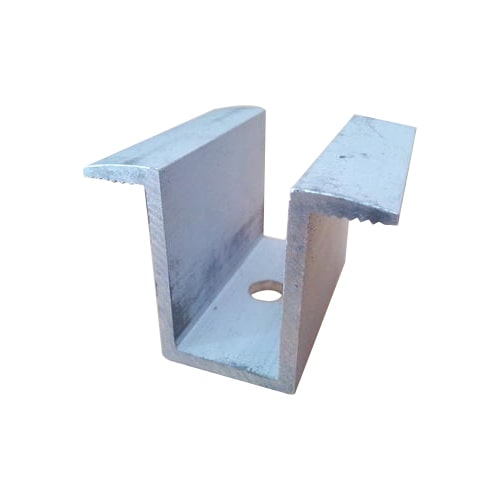 Power snap is an anti theft clip that can be used to secure solar panels and other equipment. It is a great way to secure your solar panels and equipment. It's easy to install and also very affordable.
This attachment clip simply slides onto the module frame and securely snaps into the aluminum rail. The Power Snap anti-theft lock/clip comes in two different sizes, depending on what is the size of your solar panel structure.
Big Size for 80×40 C Channel
Small Size for 40×40 C Channel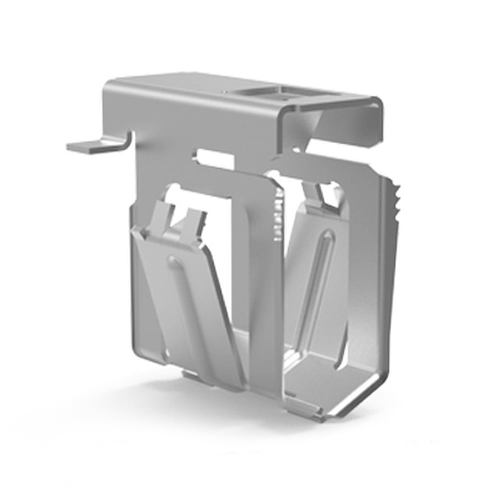 Nut and bolts are the most common solar structure accessories, used to install the solar mounting structure and attach the solar panel frame to the mounting brackets. They provide the required support to the structure and are used in various sizes, shapes and materials.
Kenbrook Solar offers you high quality spring nuts, SS Allen Bolts and stud bolts for all types of solar applications at best prices.
Spring Nut Solar Structure
SS Allen Bolt Solar Structure
Stud/Bolt with Nut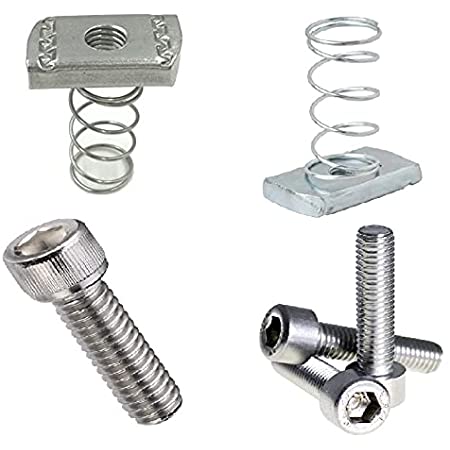 #8. Fastener Chemical Bottle
Chemical fasteners provide extra strength to the solar panel installation. It is often used with nails and screws to securely bond them with the roof of a building or any other surface.
It is an innovative technique to bind the mounting structure with the roof. For this, the chemical is injected into the drilled hole before the bolt. Then after fixing the bolt in it, it is left to dry so that it gets solidified with the bolt and concrete surface.
Along with the bottle of chemical fastener you get a nozzle and a specially designed chemical gun (need to buy separately). With the help of this nozzle and gun, you can easily inject the chemical into the drilled hole.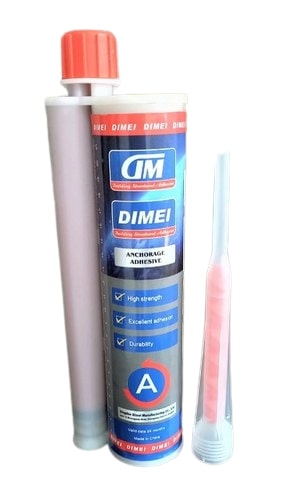 Frequently Asked Question
Top Solar Brands in India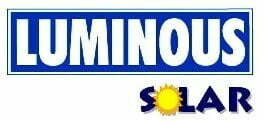 Written & Updated By: Bhanwar Chauhan On: 22/04/2022