Description
230 Ah UIT2336 UTL Solar Battery
UTL 230 Ah (Ampere hour) UIT2336 solar battery is highest capacity and very powerful battery that is used many solar application like on-grid solar system, off-grid solar system, hybrid solar system etc. It is next generation solar battery with high durability sealed plastic housing and best solution for areas with long and frequent power cuts low maintenance with level indicators.
The backup time of UTL's 230 Ah solar battery depends upon Battery AH . Higher the AH, higher will be backup time. Usually, a 230 Ah battery gives around 5 hours of backup on 600 watt Power consumption. 230 Ah is bestselling rating as it can last up to 5-6 hours if you use Led light, few ceiling fans, Television, mobile phones and Laptop charging.
230 Ah UIT2336 UTL Solar Battery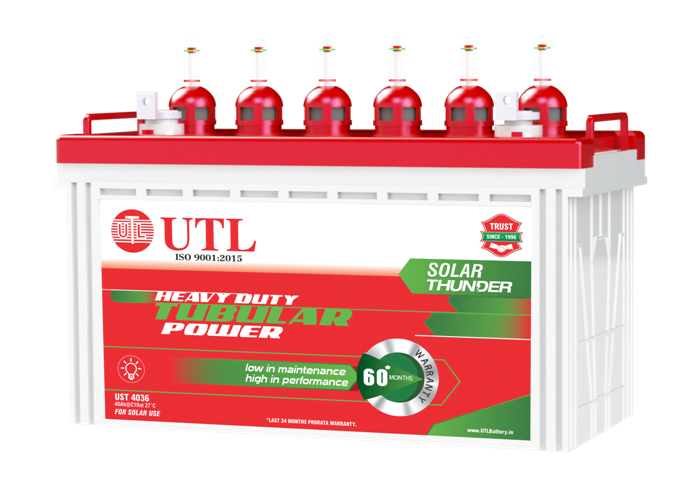 Specification of UIT2336 230AH Battery
Complete specification of 230 Ah UIT4036 UTL Solar Battery.
| | |
| --- | --- |
| Particulars | Description |
| Brand | UTL Solar |
| Model | UIT2336 |
| Capacity | 230Ah |
| Warranty | 36 months |
| Nominal Voltage | 12volt |
| Container | IT 500 |
| Dimension | 503*190*410 mm |
| Filled Weight | 75kg |
| Dry Weight | 46.5kg |
| Plate Combination | 3+4 |
| Price | Rs. 20,966 |
Benefits of UTL Solar Battery
Reliable and safe solar battery for all electrical needs
Easy to transport, install, and clean
Cheap and maintenance-free solar battery
Environment-friendly solar solution for backups
Equally suitable for off-grid and hybrid solar system
Quick rechargeable even after deep discharge
Deep satisfaction with only a one-time investment