A DC fuse is a small solar protection device that protects PV strings, DC circuits and solar equipment against short-circuit and overcurrent (amperes) events. They are made of high-quality materials and can withstand a wide temperature range, ensuring complete protection.
DC fuses are rated by the amount current they can handle, such as 15A and 30A. If the current exceeds the fuse's rating, the metal strip/wire inside the fuse melts and the circuit will break.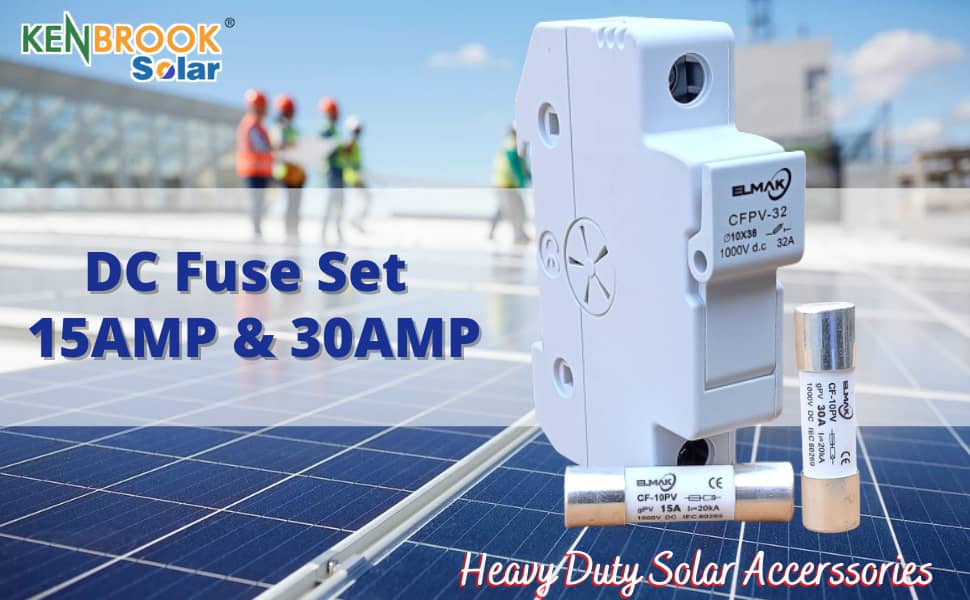 The solar power industry is in the process of developing better and more efficient ways to protect our DC components. One of these ways is through using a fuse & fuse holder for solar. These fuses are designed to protect both the DC load and the source of overvoltage from any damage.
#1. Price List of DC Fuse Set
Kenbrook Solar offers you complete rangre of solar protection devices including 15A fuse with holder and 30A fuse with holder at best price. You can see the latest and lowest price of DC fuse for solar below.
| | | |
| --- | --- | --- |
| Fuse Set Model | Selling Price | Buy It Now |
| 15AMP Fuse With Holder | Rs. 189 /Set | |
| 30AMP Fuse With Holder | Rs. 189 /Set | |
| Fuse Only | Rs. 109 /Pc | |
(Inclusive of all taxes) Prices can vary ± 3% to 5% depending on location, promotions and availability, and solar brand.
Check our Online Solar Shop or Amazon Store for latest price and stock availability.
From the Amazon links above, you can buy 10 sets of 15A and 30A Fuse. However, you can select other combinations there, based on your needs.
#2. 15A DC Fuse with Holder
The Elmak 15A DC fuse with fuse holder is a highly efficient DC circuit protector that provides protection against high currents up to 1000V 15 amps.
Capable of operating in a wide range of temperatures, the device provides longer life to the solar system. Coming to the features, the fuse is IEC Approved and is known for its high performance and durability.
Besides, it is designed with high-quality material. Once blown, the fuse can easily be replaced with a new one. Just open the holder, pull the burnt fuse out and insert a new one. There is no need for a special tool.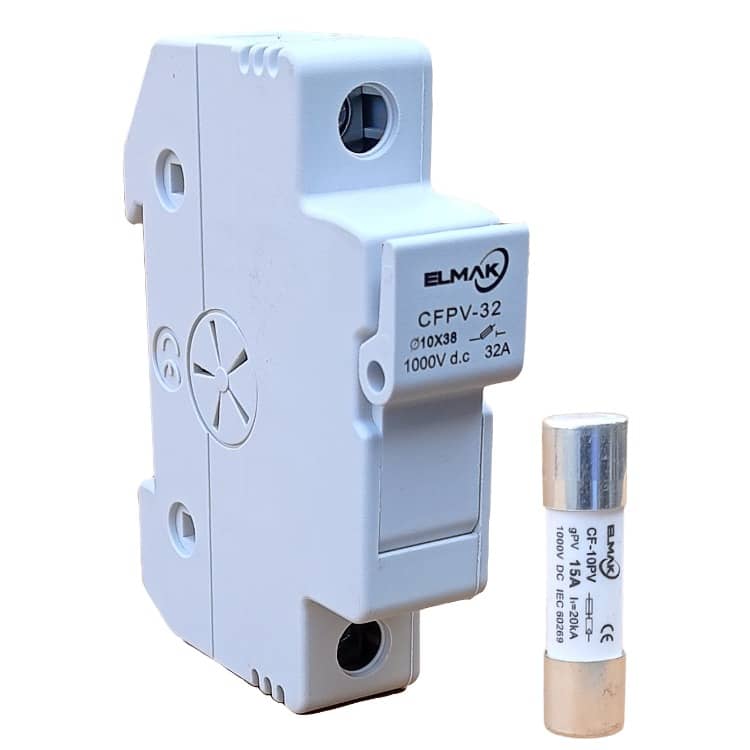 Specifications of DC Fuse 15A with Holder
| | |
| --- | --- |
| Particulars | Description |
| Product Type | 15A Fuse with Holder |
| Holder Rated Current (In) | 32 AMP 1000 Volt DC |
| Holder Body Material | High Grade Plastic |
| Holder Contact Material | Alloy Steel |
| Fuse Rated Current (In) | 15A |
| Fuse Shell Material | Ceramic |
| Fuse Contact Material | Alloy Steel |
| Standard | IEC 60269 |
| Operating Temperature | -30°C to +70°C |
| Dimension (LxWxH) | 8cm x 6cm x 2cm |
| Selling Price | Rs. 189 Per Set (Inclusive of all taxes) |
| Buy This Item on Amazon | |
#3. 30A DC Fuse with Holder
A 30A DC fuse with a 32 AMP fuse holder is a device that is highly efficient to protect your DC circuit, PV string and other solar gadgets from over-voltage and short-circuiting.
This 30A fuse is designed to interrupt the current flow when the current exceeds a predetermined level. This interruption is caused by an electric arc which melts the metal wire or element that bridges two contacts inside the fuse.
The high-quality tool can operate under a wide range of temperatures from -30 degrees C to +70 degrees C. Besides, it is IEC Approved, highly durable and easily replaceable.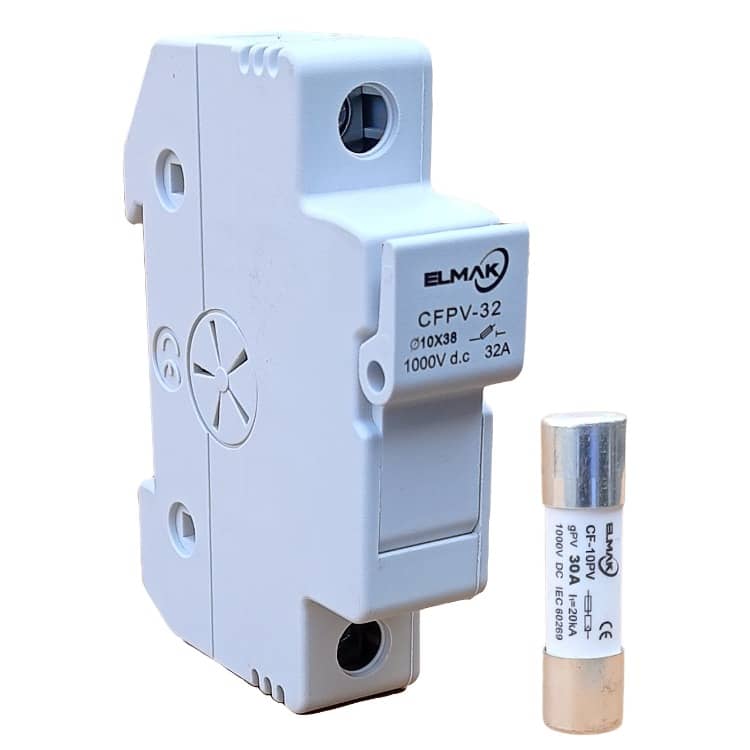 Specifications of DC Fuse 30A with Holder
This combo of 30A DC Fuse with holders protects your circuit powerfully with its highly advanced technology and high-grade material quality. Besides, it possesses several other remarkable specifications as mentioned in the table below.
| | |
| --- | --- |
| Particulars | Description |
| Product Type | 30A Fuse with Holder |
| Holder Rated Current (In) | 32 AMP 1000 Volt DC |
| Holder Body Material | High Grade Plastic |
| Holder Contact Material | Alloy Steel |
| Fuse Rated Current (In) | 30A |
| Fuse Shell Material | Ceramic |
| Fuse Contact Material | Alloy Steel |
| Standard | IEC 60269 |
| Operating Temperature | -30°C to +70°C |
| Dimension (LxWxH) | 8cm x 6cm x 2cm |
| Selling Price | Rs. 189 Per Set (Inclusive of all taxes) |
| Buy This Item on Amazon | |
Frequently Asked Question
Top Solar Brands in India